3D Winged Butterfly Set – $18.50
&nbsp
Design Tags: 3D, 4x4, 5x7, applique, butterfly, frames, reverse applique, set
Available in the following embroidery Formats: dst, exp, hus, jef, pes, shv, vip, xxx
There are a total of 10 butterflies in this set. The wings of the butterflies are 3 D. Also included in your purchase are two reverse applique "frames" for the creation of quilt blocks, should you decide to make a quilt with the designs. The frames come in two sizes and complement the butterfies. All butterflies fit the 4×4 hoops. In all there are 14 design files. The frames come in 5×5 and 6×6. Shown are 10" blocks with the 6×6 frames.
Perfect for a little girl's quilt, for placing on pillows, dresses, jackets, etc. Vary the applique fabrics and you will be surprised just how many looks and styles are possible.
Oma's Place featured in Designs in Machine Embroidery!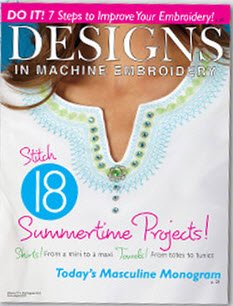 Download a free sample! It will demonstrate to you how our 3D winged butterfly set is stitched. Use it on quilts, bibs, dresses, wallhangings, lamp shades, the possibilities are endless. But most of all: Have fun stitching it. If you have any questions at all about the stitchout of this design, please feel free to contact monika@omasplace.com. I am always happy to help. Thanks for your interest in our designs.
▼Download 3D Butterfly Design featured in DIME▼
Artists:
www.designstitch.com
www.diddybag.com
www.clipartoon.com
www.digiscrapkits.com
Butterfly 1 3.37X3.38" 6,924
Butterfly 2 3.51X3.87" 5,849
Butterfly 3 3.51X3.88" 8,655
Butterfly 4 3.92×3.61 17,218
Butterfly 5 3.56X2.79" 7,825
Butterfly 6 3.56X3.03" 7,559
Butterfly 7 3.61X2.61" 5,722
Butterfly 8 3.30×3.89" 11,766
Butterfly 9 1.93×2.48" 4,994
Butterfly 10 3.93×3.29" 11,391
Butterfly Frame
5×4.98" 9,134
5.99×6" 11,398
Daisy Frame
5×4,97" 8,898
6×5.96" 11,442