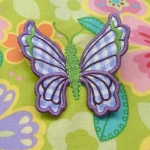 There are a total of 10 butterflies in this set. The wings of the butterflies are 3 D. Also included in your purchase are two reverse applique "frames" for the creation of quilt blocks, should you decide to make a quilt with the designs. The frames come in two sizes and complement the butterfies. All butterflies fit the 4×4 hoops. In all there are 14 design files. The frames come in 5×5 and 6×6. Shown are 10″ blocks with the 6×6 frames.
Perfect for a little girl's quilt, for placing on pillows, dresses, jackets, etc. Vary the applique fabrics and you will be surprised just how many looks and styles are possible.
Artists:
www.designstitch.com
www.diddybag.com
www.clipartoon.com
www.digiscrapkits.com
Butterfly 1 3.37X3.38″ 6,924
Butterfly 2 3.51X3.87″ 5,849
Butterfly 3 3.51X3.88″ 8,655
Butterfly 4 3.92×3.61 17,218
Butterfly 5 3.56X2.79″ 7,825
Butterfly 6 3.56X3.03″ 7,559
Butterfly 7 3.61X2.61″ 5,722
Butterfly 8 3.30×3.89″ 11,766
Butterfly 9 1.93×2.48″ 4,994
Butterfly 10 3.93×3.29″ 11,391
Butterfly Frame
5×4.98″ 9,134
5.99×6″ 11,398
Daisy Frame
5×4,97″ 8,898
6×5.96″ 11,442
Available Formats - All designs come in the following embroidery formats: art, dst, exp, hus, jef, pes, shv, vip, vp3, xxx.
Designs will be downloaded in one zip file. If for some reason your desired format is not found, please contact us.