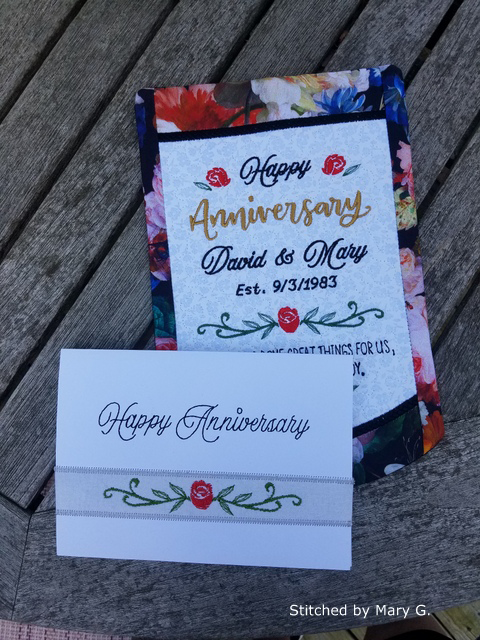 This design was digitized to be stitched on cardstock or blank greeting cards.
You are receiving 2 stitch files in total: The anniversary card design with the words "Happy Anniversary", and the words "Happy Anniversary" by themselves so you can use them on other cards as well. The card design comes with placement stitches to ensure accurate placement on the cards. Instructions include tips on stitching on blank cards. Comes with photos showing you how to make a greeting card using the design.
The fabric strip is appliqued and the lacey look of the lower edge was achieved with a paper punch. This is an optional technique; you can leave the bottom edge straight as well.
Design dimensions Stitch counts
Anniversary card 7.00″ w x 5.00″ h 4,043
Anniversary words 4.96″ w x 0.88″ h 1,173
Graphic artist for branches: www.bluechairblessing.com (exclusive art)
Help celebrate a couple's anniversary with this beautiful banner. The design comes with the ordinal numbers 10th, 25th and 50th already inserted. In addition your download includes a stitch file with the words "Happy Anniversary" to make it more applicable to other anniversaries as well. We used our 3/4″ Aurora font for the names and our Tiny Zing font for the date. Fonts are not included with your purchase.
The design comes with thorough instructions for the stitchout. We do not provide the instructions for inserting the names and dates since that is machine and software specific.
Final banner size: 6.75×10.25″
Exclusive graphics: www.bluechairblessing.com
All the capital letters of this whimsical font are about 0.75″ tall. Some may be slightly taller because of some descenders. A very elegant font. Capital letters could also be used as a small monogram. Your download includes all lower and upper case letters and numbers 0 through 9. In addition, some commonly used punctuations are part of your download as well. Comes in 10 different machine formats as well as in bx for Embrilliance users.
Dimensions Stitch Counts
Capital A 0.76″ h x 1.00″ w 1,181
Lower case a 0.32″ h x 0.33″ w 208
Available Formats - All designs come in the following embroidery formats: dst, exp, hus, jef, pes, shv, vip, vp3, xxx.
Designs will be downloaded in one zip file. If for some reason your desired format is not found, please contact us.