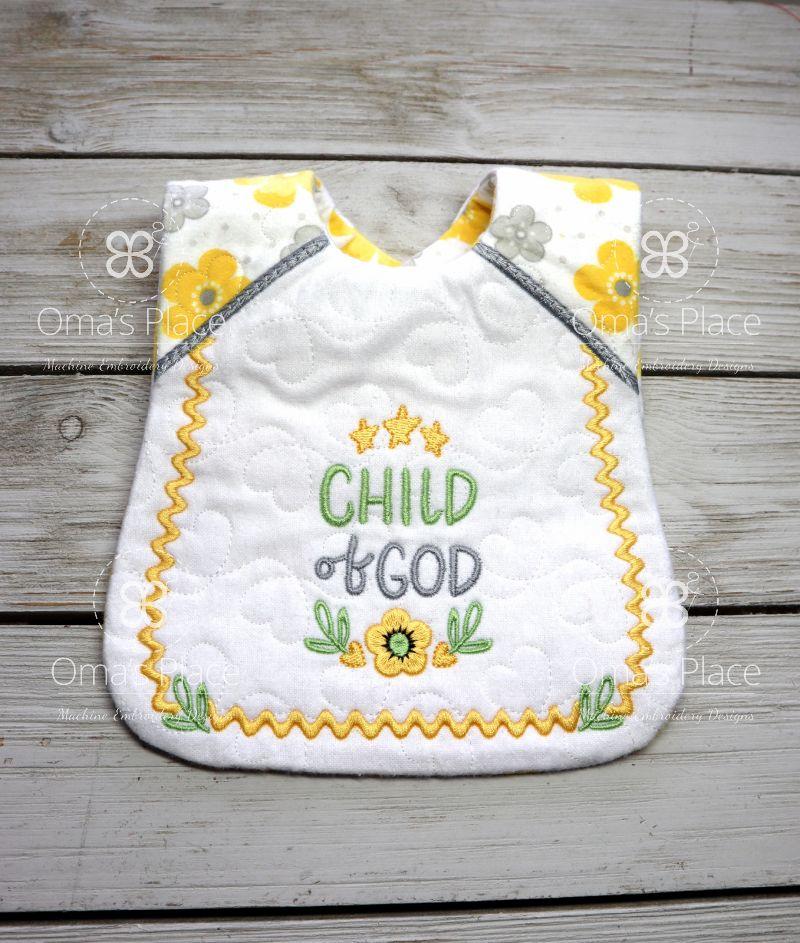 For the 7×11 and 8×12 Hoops
This adorable bib is entirely constructed in the hoop; no additional sewing machine or hand stitching required. The background is quilted with a heart motif. There are 2 sizes included with your download – one for 7×11" hoops, the other for 8×12" hoops. Closure of the bib is accomplished with a plastic snap. The 7×11" size is appropriate for 3 to 6 months old babies; the 8×12" fits a 6 to 12 months old infant. Combine this project with some of our other in the hoop baby designs for a one of a kind gift for a baby shower.
You are receiving six stitch files with your download: The bib as shown and the bib without center design in both the 8×12" and 7×11" sizes; in addition you will receive a boy version in both sizes where the flower has been exchanged for a star.
Graphic artist : https://www.bluechairblessings.com
Design Dimensions: Stitch Count:
7×11" Girl bib 7.00" w x 11.00" h 20,015
7×11" Boy bib 7.00" w x 11.00" h 19,010
8×12" Girl bib 7.80" w x 11.80" h 20,960
8z12" Boy bib 7.80" w x 11.80" h 20,703
Plain Bib 7×11" 7.00×11.00" 13,421
Plain Bib 8×12" 7.80×11.80" 14,337
Quality cotton or flannel (solid color or a pattern that does not interfere with
the design and lettering) for the front bottom
Quality cotton flannel for the front top and back
Cotton flannel (preferably white) for the inner layer
1/2" wide Steam a Seam 2 or HeatNBond Lite (optional)
Polymesh (cut away) stabilizer or white flannel used as stabilizer
Painters' tape
Small, sharp, curved tip scissors
Plastic snaps and snap applicator (preferably long prong snaps)
I use Kam snaps which I have found very easy to apply. You can find
them online at www.kamsnaps.com. They are pretty much the same
as Babyville plastic snaps that you can buy at JoAnn's (for US
residents).
Available Formats - All designs come in the following embroidery formats: dst, exp, hus, jef, pes, shv, vip, vp3, xxx.
Designs will be downloaded in one zip file. If for some reason your desired format is not found, please contact us.