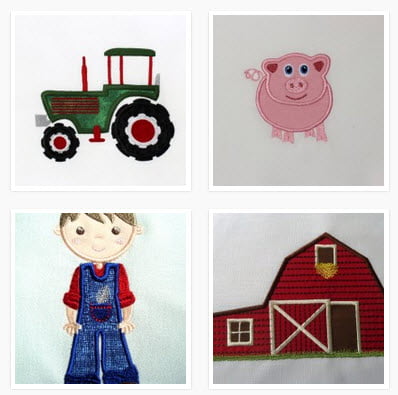 This set includes our entire Farm Life applique collection. Â  This is for 5×7 hoops.
This design sets includes the 11 following farm life appliques:
Tractor Applique
Barn Applique
Pig Applique
Cow Applique
Udderly Cow Applique
Sheep Applique
Basket Applique
Tree Applique
Farm Girl Applique
Farm Boy Applique
Farm Life Add ons
Combine the designs to create really unique and fun farm scenes. This applique design set is suitable for placement on children's shirts, quilts, pillows, etc.Suitable for children's quilts, pillows, blankets and playmats as well as hot pads and kitchen towels.
Design Dimensions & Stitch Counts:
Tractor: 5.75×4.64" & 18,928
Barn:  6.55×4.23" & 10,962
Pig: 3.13×3.41" & 6,622
Cow:  5.33×4.39" & 11,162
Udderly Cow: 5.33×4.95" & 13,727
Sheep: 3.02×3.95" (Sheep) 0.53×0.48" (grass) &  7,236
Basket: 1.98×2.56" & 5,910
Tree: 5.00×6.17" & 9,768
Farm Girl: 2.91×5.53" & 11,526
Farm Boy: 2.26×5.69" & 12,419
Farm Life Add-ons:Â 
Duck 1.83×2.51" 2,941
Rooster 1.81×2.35" 4,486
Grass 0.52×0.48" 340
Flower (small) 0.50×0.79" 286
Flower (large) 1.14×2.77" 1,873
Available Formats - All designs come in the following embroidery formats: art, dst, exp, hus, jef, pes, shv, vip, vp3, xxx.
Designs will be downloaded in one zip file. If for some reason your desired format is not found, please contact us.