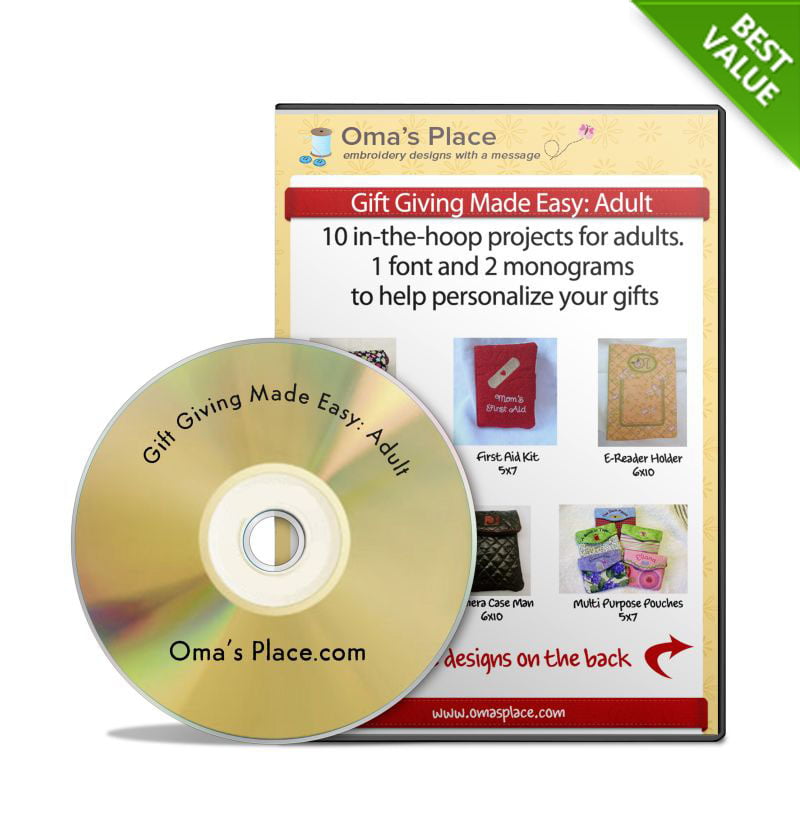 This past August you enjoyed purchasing our products at 65% off. Now you have the opportunity to buy some of our best selling products at 65% and more off all year long. We just put together two CDs with our most popular in-the-hoop projects one for adults; the other for children. Both come with fonts/monograms to personalize your projects with. The value of the designs on each CD would be worth well over $100.00, if purchased individually. The CDs sell for $34.50 each. Please note that at this price, CDs will never be part of any other sale we offer on our website.
This CD contains 10 in-the-hoop projects for adults plus 1 font and 2 monograms to help personalize your gifts. Six projects for the 6×10 hoops, three for the 5×7 hoops and one for the 4×4 hoops. Designs come in art, dst, exp, hus, jef, pes, shv, vip, and xxx formats. Easy-to-follow instructions and tutorials are provided with every project.
Here are all the designs on this CD:
ADULTS PROJECTS"
Camera case (lady) 6×10
Camera case (man) 6×10
E-Reader holder 6×10
First Aid Kit 5×7
Hearts of Faith 4×4
Multi-purpose pouches 5×7
Multi-purpose pouches 6×10
Purse tissue holder 6×10
iPod Touch Holder 6×10
Sweet Dreams pillow 5×7
FONTS
Classic Bold ¾"
MONOGRAMS
Little Lord ¾"
Tiny Rosebud 1″
ADDITIONAL THUMBNAILS:
Available Formats - All designs come in the following embroidery formats: dst, exp, hus, jef, pes, shv, vip, vp3, xxx.
Designs will be downloaded in one zip file. If for some reason your desired format is not found, please contact us.