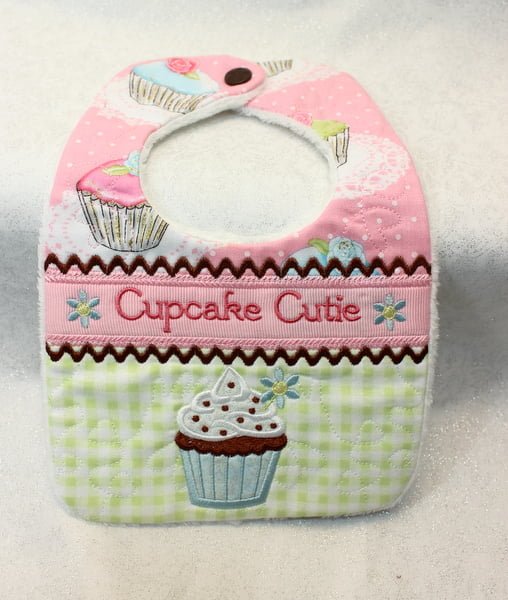 For 6×10, 7×11 and 8×12 hoops.
These in the hoop bibs are fast and fun to make. Combine them with some of our other in the hoop baby designs for a one of a kind baby shower gift. This bib comes in three sizes and in two versions — one with the applique cupcake design and the words "Cupcake Cutie" the other version comes without design and wording. The background of the bibs is motif quilted. Closure is accomplished by applying snaps or machine sewing Velcro to the bib. The bibs are turned right side out through an opening in the back lining. That opening gets fused shut or can be stitched closed by hand. All bibs come with placement guidelines for snaps; the 7×11 and 8×12 version come with two guidelines to make adjusting of the bibs to different ages and neck sizes easier. All done in one hooping. Bibs come in the 6×10″, 7×11″ and 8×12″ hoop sizes.
There are a total of 6 stitch files included with this set.
Graphic artist for cupcake: Sugar Bear Graphics
Neck opening sizes vary depending on design size stitched.
6×10″ 10″ circumference (infant up to 3 months)
7×11″ 11″ circumference (can be adjusted down to 10″ with snaps)
8×12″ 12″ circumference (can be adjusted down to 11″; appropriate for
toddlers)
Design Dimensions & Stitch Counts:
6×10 (full version): 5.94×9.40″ 16,055
6×10 (plain): 5.94×9.40″ 9,368
7×11 (full version): 6.92×11.00″ 18,869
7×11 (plain): 6.92×11.00″ 10,952
8×12 (full version): 7.85×11.68″ 20,736
8×12 (plain): 7.84×11.68″ 12,028
Available Formats - All designs come in the following embroidery formats: dst, exp, hus, jef, pes, shv, vip, vp3, xxx.
Designs will be downloaded in one zip file. If for some reason your desired format is not found, please contact us.