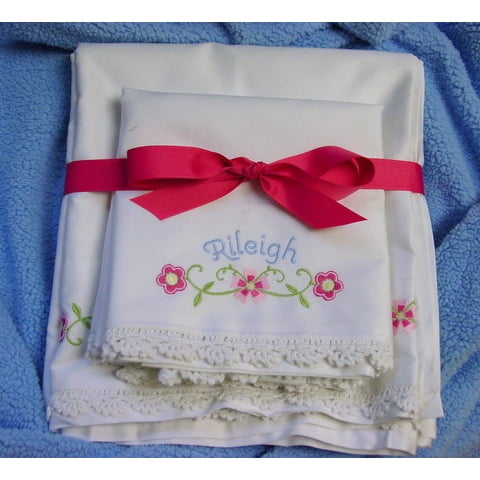 This small set of 6 designs was designed to coordinate with Ten Commandments for Girls. Intended for use on pillow borders and bed sheets, it certainly would look very nice on girls clothing as well. I can envision the bird and big flower on a girly tote as well. One of the designs will require a 6×10 hoop (bunny border), but since the individual designs (border, bunny, bird) are also included in the set, it is entirely possible to stitch these out with a 5×7 hoop. No font or name included with this design. The set includes:
Pillow border;
Single rose corner;
Bunny border (6×10);
Big flower and bird (part applique);
Little bunny(both left and right versions are included);
Little bird;
Applique flower;
Pinwheel flower;
For a total of 9 files.
Artists:
Design Dimensions: Stitch Count
1. Bunny Border 2.45×9.74″ 11,327
2. Pillow Border 1.37×5.29″ 7,254
3. Big Flower/Bird 2.93×6.11″ 7,309
4. App Flower 2.45×2.44″ 4,056
5. Corner Rose 2.32×2.30″ 3,036
6. Little Bird 0.93×1,21″ 596
7. Tiny Bunny 0.89×0.74″ 792
(left and right versions are included)
8. Pinwheel flower 0.93×0.94″ 989
Available Formats - All designs come in the following embroidery formats: dst, exp, hus, jef, pes, shv, vip, vp3, xxx.
Designs will be downloaded in one zip file. If for some reason your desired format is not found, please contact us.