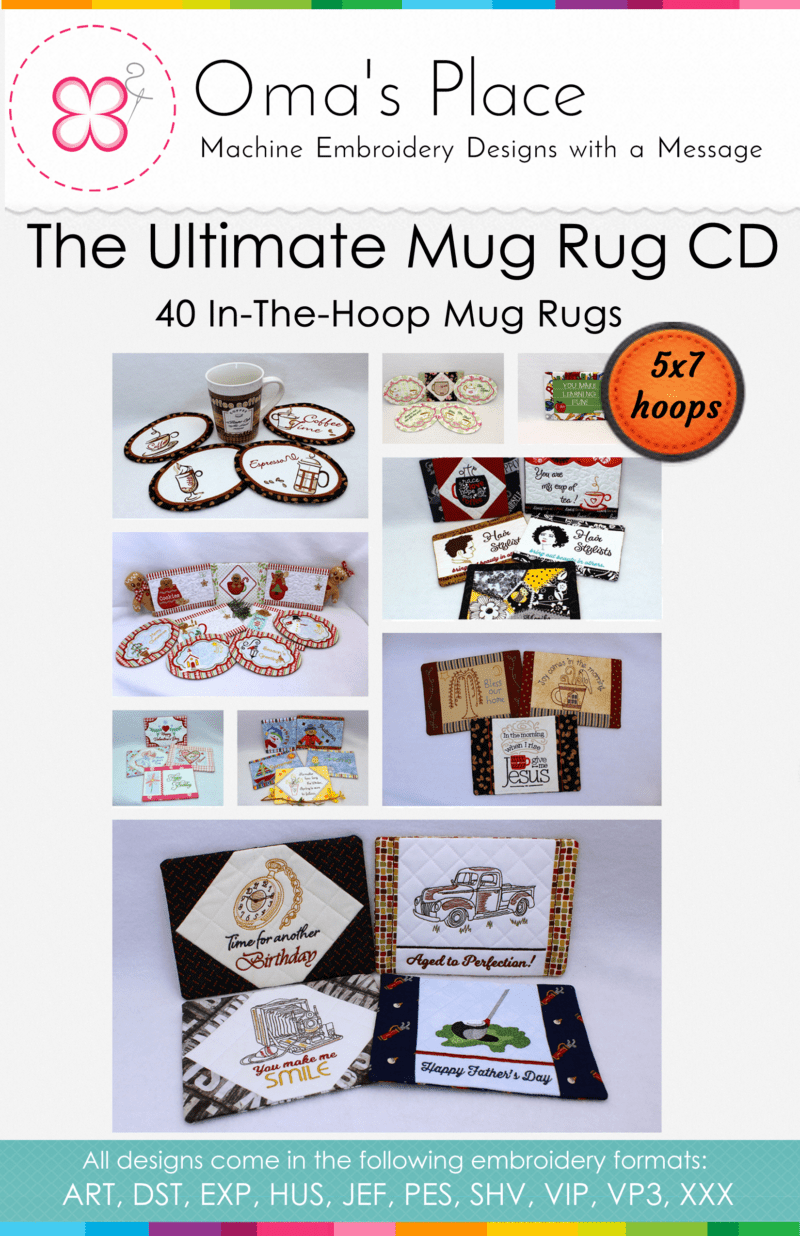 Choose either a physical CD or a digital download.
If you order the physical CD – please allow 7-10 days for delivery.
This incredible collection contains instructions and designs to make a total of 40 in-the-hoop mug rugs! For 5×7 hoops.
Some of our most popular mug rugs have been put together for you on this CD. Each of the 40 mug rugs comes with a coordinating gift card/tag that explains what a mug rug is and how to launder it. In addition, each mug rug comes with a plain version so you can insert a design of your own choosing.
There are mug rugs for many occasions – seasonal ones, as well as inspirational ones. You will find mug rugs for men, for Mom, and for the teacher. Send these instead of greeting cards. They are so much more meaningful and useful. With this CD on hand, you will be ready for many occasions. The designs come with detailed photo instructions. As a bonus we are also including 2 fonts (with bx format) that will allow you to personalize your mug rugs
Contents:
1. Camera Mug Rug
2. Coffee Mug Rugs Set*
3. Crazy Patch Heart Mug Rug
4. Crazy Patch Mug Rug
5. Cup of Tea Mug Rug
6. Daisy Mug Rug
7. Folkloric Mug Rug
8. Golfing Mug Rug
9. Hair Stylist Lady Mug
10. Hair Stylist Man Mug Rug
11. Perfection Mug Rug
12. Prim Spring Mug Rug
13. Seasonal Mug Rugs Set*
14. Sunbonnet Mug Rug
15. Tea Mug Rugs Set*
16. Teacher Mug Rug
17. Time Mug Rug
18. Ginger in Cup Mug Rug
19. Gingerbread Mug Rug Set*
20. Season of Wonders Mug Rug Set*
21. Grace Coffee Mug Rug Set*
22. Grace Tea Mug Rug Set*
23. In the Morning Mug Rug
24. Joy in the Morning Mug Rug
25. Primitive Willow Mug Rug
*Set contains 4 different mug rugs

Available Formats - All designs come in the following embroidery formats: dst, exp, hus, jef, pes, shv, vip, vp3, xxx.
Designs will be downloaded in one zip file. If for some reason your desired format is not found, please contact us.