Free Embroidery Designs
We know that in this economy, money can be tight and finding good free embroidery designs can be hard. We have hundreds of free designs available to showcase some of our premium designs. You can select from one of the embroidery categories below. One of our more popular categories is our free children designs. Don't forget, you can also sign up for our monthly newsletter and receive a free design every month!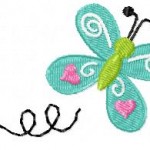 Free Butterfly Trail 4x4. Size: 2.77 x 1.93 inches. Stitches: 3,696.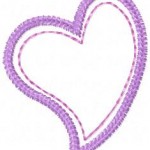 This is a free applique heart design. For detailed instructions, please refer to the pdf entitle "Applique - Oma's Way." 1. Outline of heart - after 1, place fabric 2.…