Do you have to create an account or log-in to purchase?
While creating an account is helpful if you would like to be able to download your purchase later, an account is not necessary.
What is my username?
Your user name is most likely your email address. This is especially true if you have purchased from us in the past. If you have problems finding your username, you can always e-mail us using the contact form.
What is my password?
The best method for obtaining your password is to have it reset. You can use this form here, to reset your password.
My purchases are not showing in my purchase history
No problem! Just contact us and we will do our magic to get your orders added to your purchase history.
What are points and what do I do with them?
You earn points when you make purchases and your can redeem points towards a discount on future purchases.
How do I get points?
Easily! You earn 20 points when you register for an account and every time you make a purchase your earn 1 point for each dollar you spend (and we round up!). For example:
You are a new customer and buy a design for $6.50.
New Account = 20 points
+ Design ($6.50) = 7 points
Total = 27 points!
How do I redeem points?
You can redeem points on checkout as long as you are logged in! When you go to the checkout page, you will see an option that says something along the lines of, "Use XX points for a $X.XX discount on this order". Next to that will have an "apply discount" button. Give the cart a second to refresh and then you should see the discount applied on your order.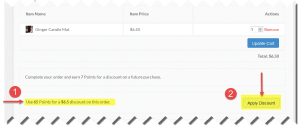 The redemption value is 100 points = $10.00 so you can get free designs pretty quickly that way! Using the new customer example above, that customer would get $2.70 off their next purchase!
Point Limitations:
Per Product:
Maximum of 25 points ($2.50) per product discount.
Per Cart:
Maximum of 50 points ($5.00) towards the cart total.
Example – 2 fonts x 5.00 = $10.00 cart total. 50 points can be applied ($5.00) for $2.50 off each font. Total after discount would be $5.00.