What is this BX file and how can I use it?
The BX format is a special pre-mapped format that is being provided to you by Oma's Place in conjunction with BriTon Leap, the makers of Embrilliance software. Why is this format "special"? Because it is the first design collection format that allows you to use these designs with unlocked customizing features AND includes FREE SOFTWARE to use them this way!
Alphabet collections saved as a BX format can be used as keyboard fonts!
Appliqué design collections published by the Embrilliance Digitizing software, allow you to change the finishing stitch, resize and more.
This is just the tip of the customizing fun you can have with Embrilliance Moddies!
How do I get started?
We know you want to get started using your library files right away, so we won't dilly dally with the instructions. If you have already installed Embrilliance Express for a previous purchased font in the BX format (or you own Embrilliance or EmbroideryWorks), you can skip this step and add the font as you did previously!
Free Sample BX Font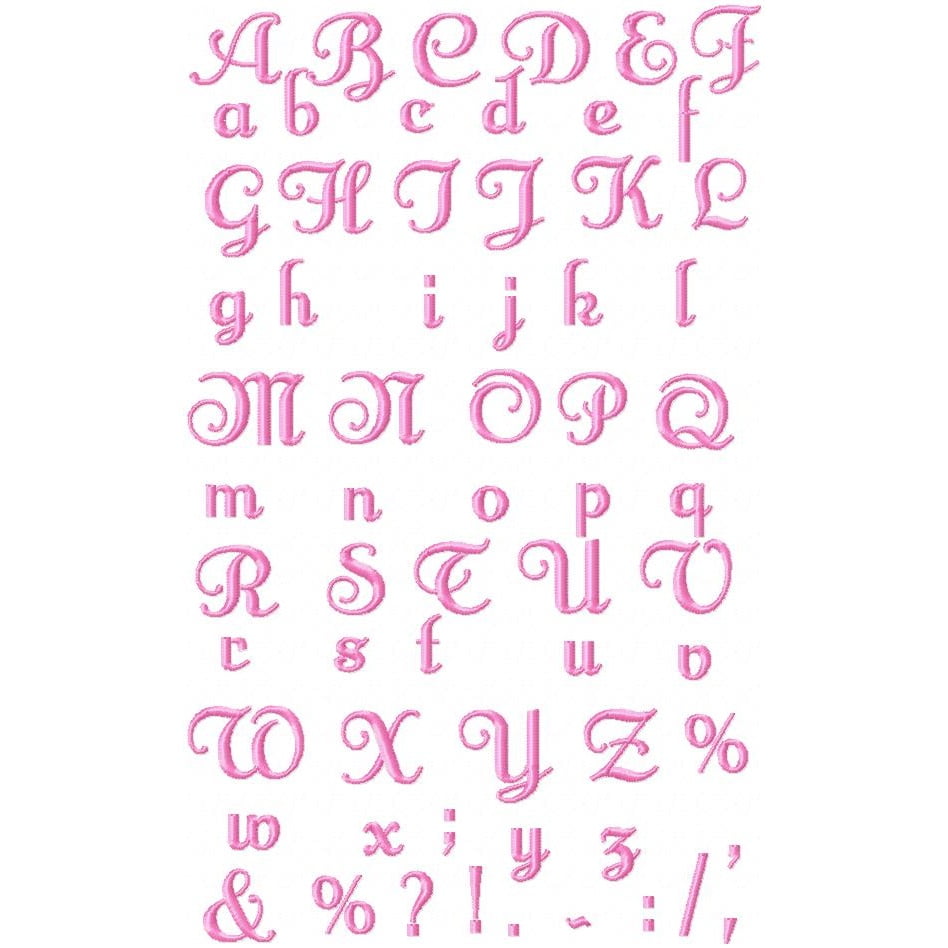 We are making available our Anna Font in BX format for free. This 3/4″ font is This ¾" font is perfect for personalizing your gift giving. You see it used on our girl/doll purses for the 6×10 hoop. It covers well for use on blankets and blanket labels. All upper and lower case letters, numbers 0-9, and commonly used punctuations are included
Download here: ANNA FONT BX.ZIP
Embrilliance Express
First, download Embrilliance Express for your operating system from Embrilliance website.
http://embrilliance.com/express
YES this is a free program for BOTH Mac and PC owners!
YES it is really FREE, no strings attached!
You will want to install the program after you download it – Windows users must unzip the file before installing.
When you open the program, you will be prompted to either enter in a serial number OR to continue using the program in Express mode.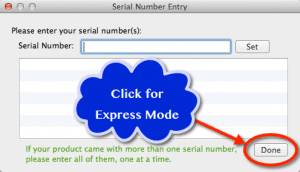 Embrilliance Express mode will provide you the interface to use the designs that you have just purchased as a keyboard font or library entry. The next step is adding the files to this program.
Once you have the program installed, you can EITHER drag and drop the BX file onto the open program OR double click on the BX file and it will automatically open and install into Embrilliance.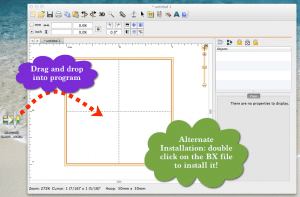 Now that your font is installed, you may use it to create lettering designs.
Click the 'A' on the toolbar, toward the far right. This will add a lettering design with the letters "ABC". You can now use the Properties window to the right (click on the Letters tab) to change the font and type in what you want to say.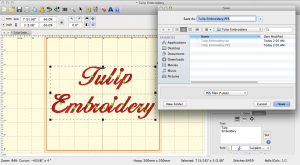 The Help menu has more specific instructions on using the fonts.
You may create multi-line text, circle text and even spiral text. Using the handles on the letters, you can adjust the lettering for text on a path and more. Want to edit your design later? Simply open the .BE file with the same name as the design and you are ready to make changes!
Owners of the full versions of Embrilliance Essentials, Embrilliance AlphaTricks and Designer's Gallery EmbroideryWorks can do even more! Please check out the full versions of all these programs for their other useful, fun and easy features.
Embrilliance Essentials
So with all the things you can do with Embrilliance Express, why would you ever need Essentials? Here are some advantages of Essentials vs Express:
1. Allows you to merge your designs before saving and exporting them in your machine format.
When would you need that? Let's say you have just finished making this adorable baby quilt and you want to personalize it. You want to add a name, a date, and maybe a little teddybear in the lower corner of a quilt label you had purchased? After all the front of the quilt has applique teddy bears on it. And you have just the right label and miniature to do this with.
In the Express version, you can only write the lettering, export it and hope it will fit into the label. You may have to go back and forth several times before you can get it "just right". In Essentials, you bring in your label design, merge your little teddy bear and then do the writing around the teddy bear. It will take very little time to do this and you will be so pleased with the outcome.
This is a true time saver and decreases frustration and improves accuracy of your placement of lettering.
Both programs are very intuitive and very user friendly. And the company's support of their software is excellent.
2. Saves a working file of your design
You can go back and do more work on a label, for example, without having to redo everything.
3. You can resize your overall design, with stitch recalculation
4. You can fit your overall design to your hoop, with stitch recalculation
5. You can add basting stitches to your designs
These are just some of the many additional features of the Essentials program.
When you purchase a font of ours that has the BX format added, you no longer need to download all lettering and punctuations. You just need to save the bx format (1 file) and then drag it into your Embrilliance program and you are ready to go.
So much easier.
Created with Compare Ninja
Embrilliance Essential Review
This is what one of our customers, Cherrie B., says about Embrilliance:
"I have been using Embrilliance Essentials for a few months now and I absolutely LOVE it. I put lots of quilt labels together to stitch out for customers. Before I always had to put the letters into the software one by one which is VERY time consuming. Now I can install the bx files into my Embrilliance software in a matter of seconds and the fonts are keyboard ready. No more dragging them in one by one. This is literally the easiest software I have ever used. "
Here is a sample of what Cherrie did, using our Petite French font and the Essentials program. She says it took her about two minutes!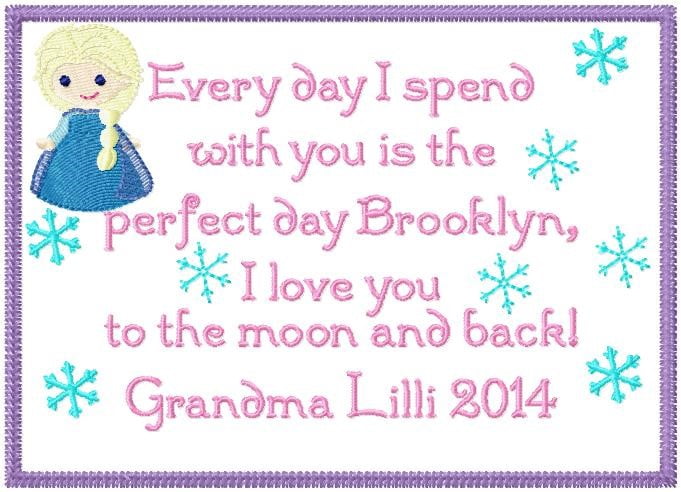 Embrilliance Express or Embrilliance Essentials?
EMBRILLIANCE EXPRESS
1. Allows for keyboard entry of lettering
For example: you need a name, some wording written quickly and don't want to import each letter individually, you can go to Express , choose your lettering from the drop down menu and then use your computer keyboard to enter your desired wording.
2. Installation of fonts is super easy.
The installation of those fonts is very easy. Just drag and drop that one bx file into the Embrilliance program and it's there for you to use from the on.
3. Font size adjustments are possible.
You can make sizeadjustments. Maybe your font comes in ½" and you really would prefer ¾"? No problem. Just select your "written" wording and drag the corners to increase or decrease the size.
4. Arcing of lettering and squeezing the lettering closer together can also be done easily.
5. Express converts to your machine format.
The only one it does not convert to is ART, but it does convert to exp+ which is used by many Bernina machines.
6. Embrilliance Express does NOT save a working file.
What does that mean? If the lettering turns out to be too large or too small, when you go back into the program, you essentially need to restart/rewrite your lettering.

or