On March 29th of this year, I very suddenly and unexpectedly lost my husband of 40 yrs. He was my best friend, my greatest fan, my support and the love of my life. Life has been difficult since his passing and I often wonder how I can go on without him. But God gives strength each day and hope that I will see John again some day. One of my struggles has been to be able to sleep at night. Psalm 4:8 has been a great comfort to me and I decided that maybe others would be helped by this scripture, too. I have made it into an in the hoop pillow. It requires an at least 7×7″ hoop and final size is 12×12″.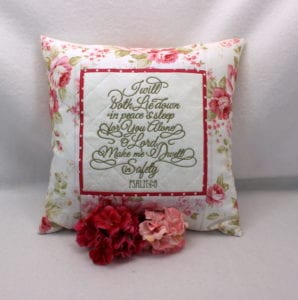 For those of you who cannot stitch this size, the center wording design (only) is also available for 5×7″ hoops. The single design is also available for 7×7″ hoops to be placed in the center of quilts or ready made pillow cases. I placed that design into a blank provided courtesy of www.allaboutblanks.com and like how it turned out.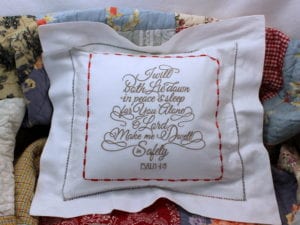 I hope this design will be a comfort to you as well.