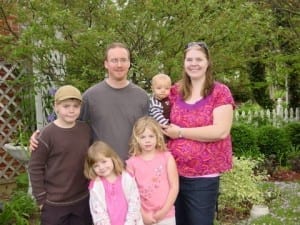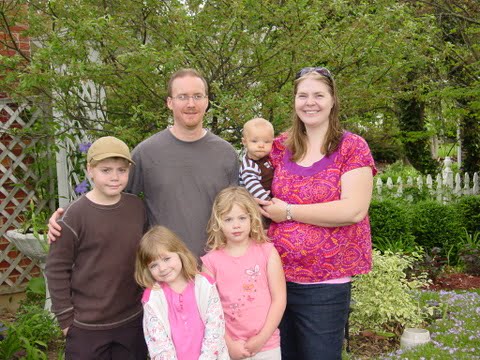 Last Wednesday was a very special day in the life of our daughter and her family. Kristy's husband officially adopted all three of her children from a previous marriage. We all went to court and listened to the Judge, a folksy kind of person, talk about the value of family and the need to support each other through "thick and thin". In an effort to learn "who's who" in the Brock family, he was asking who "Sarah" was – she was quick to let him know that her name was "Saarah" and then proceeded to spell it for him. He laughed and said "I stand corrected, little lady!" Both sets of grandparents were there and even little Louis, a cousin. We were surprised to learn that time would be "turned back" as it was through the adoption and that all documents would reflect Brian as their biological father and that legally there would be no trace left of their past. It reminded me of what Christ does for us when He adopts us into His family. The past is gone – all things are new.
We are so thankful for God's leading in our Kristy's life. Someday I will need to write it all down. God has taken all the broken pieces of her life and made them whole. So much to be thankful for!
On the sewing side, I have been very busy digitizing. I have just finished some baby quilt block designs and they stitch up quickly and look great. I hope you will like them.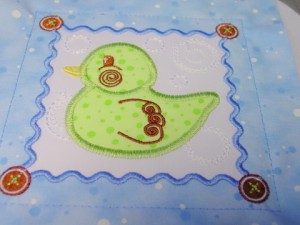 I am intending to make a rag quilt for Effie with them. Cherrie Bell, one of my test stitchers, sells some vintage chenille 6″ precut squares and makes the most gorgeous rag quilts you will ever see. I will be posting some of her work in our yahoo group soon. So inspirational. If you would like to see her vintage chenille at reasonable pricing, you can find it here:
http://www.artfire.com/users/cherrieblossomquilts
I am also working on a set of exclusive Prayer Cuties that will be great for children's quilts and prayer cloth books. Coming your way soon, I hope.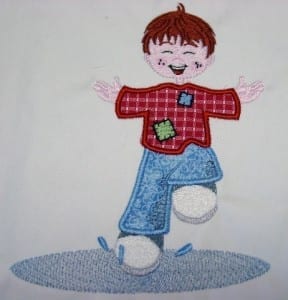 Just thought you might like a little update about what's going on here with us in Ohio.
Always enjoy hearing from you all, too.
God bless.
Monika