This product combines the following sets: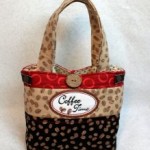 Now you can carry your own mug to work and quilting class. This little tote is mostly done as an in the hoop project. Some machine sewing and a small amount of handsewing is required for this project. The tote is well padded so your mug will be safe. Roomy enough for a medium sized mug, a mug rug, and a treat. The front of the tote has a label that is reverse appliqued (it's easy; we show you how) with and without the words "Coffee Time". The back of the little tote has an appliqued pocket. There are small side tabs that are snapped to the bag. You could also sew the tabs on and apply small side buttons, if you wish, instead of the snaps. Of course, this little tote can be used for more than just carrying a mug. Just the right size for a child's tote, too. For 6×10 and larger hoops.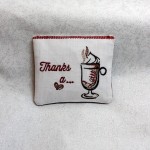 This small pocket is stitched completely in the hoop, no hand sewing required. There is a strap in the back under which to place the pocket's flap, securing the contents of the little bag. A cup of Latte coffee and some beans decorate the pocket and flap. The pocket holds a single portion coffee as well as a gift card, maybe to your favorite coffee shop? Perfect for gifting a teacher or anytime you want to say "thank you". For 5×7 hoops or larger. The design is completed in one hooping and stitches up quickly.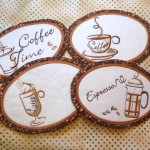 This fun set of 4 mug rugs is great for the coffee lovers in your life. The mug rugs are made as an in the hoop project. The edge is reverse appliqued as part of the embroidery process. The centers of the mug rugs are stipple quilted. You only need to close a small opening in the back by handstitching. Also included is a "plain" mug rug so you can fussy cut and showcase fun fabrics of your own choosing. In total you are receiving 5 in the hoop files. Designs fit the 5×7 hoops. Easy instructions in pdf format with clear photos as well as jpg color charts are part of your download.