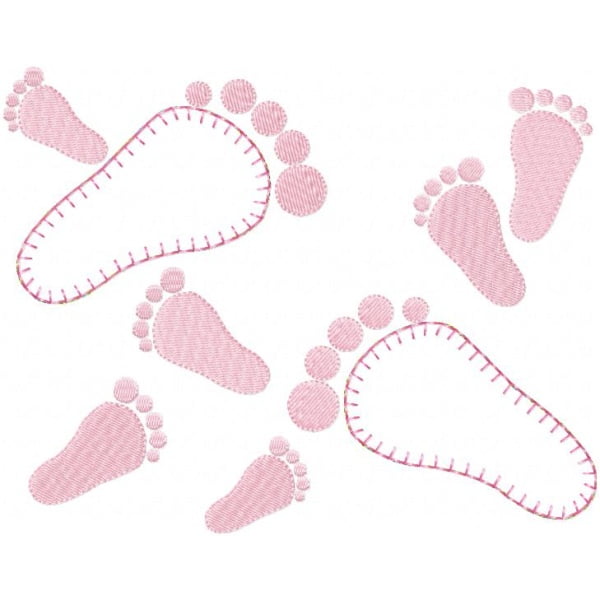 This set of 13 design files will make the personalizing of your projects for babies and adults a lot of fun. The feet come in fill designs as well as applique blanket stitch and applique satin stitch. There are a variety of sizes to choose from.
Place these on beach towels, baby towels, baby blankets, birth samplers, diaper bags, etc. There are designs for the 4×4 as well as 5×7 hoops:
Left and right AppBabyFeet in 4×4 as well as 5×7; left and right app Baby feet Satin stitch also in 4×4 and 5×7; left and right medium fill feet; left and right tiny fill feet; and lastly medium feet left and right combined. No alphabets are included, but shown are the use of our Classic Bold (Caleb) and ¾" Twinkle Star (Eliana).
Design Dimensions Stitch Counts
AppBabyFootBlanket
4×4 3.91×2.83″ 2,050
5×7 6.72×4.89″ 4,418
AppBabyFootSatin
4×4 3.89×2.89″ 2,904
5×7 6.82×5.03″ 6,110
Tiny Feet Fill 1.30×1.22″ 1,105
Medium Feet Fill 1.72×1.60″ 1,715
Medium Feet Combined 2.25×2.76″ 3,446
Available Formats - All designs come in the following embroidery formats: dst, exp, hus, jef, pes, shv, vip, vp3, xxx.
Designs will be downloaded in one zip file. If for some reason your desired format is not found, please contact us.