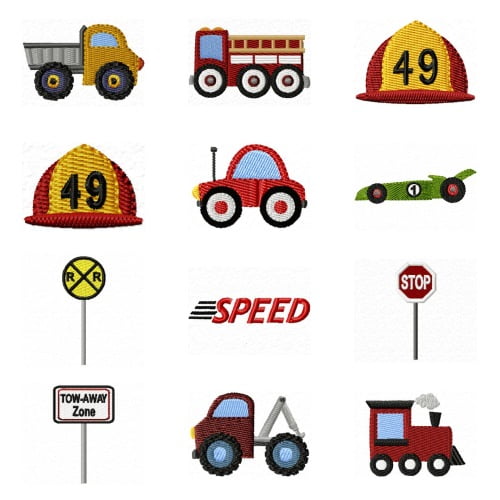 This design set consists of 12 small designs, intended to be used as add ons to Omas plain Applique Boy Alphabet or other plain alphabets you already own. These designs also work very well on small childrens clothing items or placed in the center of small pieced quilting squares. Great for bibs and burps as well. While design dimensions vary (see below), they all are less than 2 tall.
Artists: Alice Smith of Whimsy Primsy
Zenwaredesigns
Scrappin Doodles
Cupcake Cutiees Designs
1. Dump Truck
Dimensions: 1.91×1.19
Stitch Count: 3,062
2. Stop Sign
Dimensions: 0.93×2.22
Stitch Count: 1,923
3. Little Car
Dimensions: 1.61×1.18
Stitch Count: 2,588
4. Fire Engine
Dimensions: 2.39×1.40
Stitch Count: 5,740
5 & 6. Firemans Hat (large and small)
Dimensions: 1.17×1.36
Stitch Count: 2,154
7. Tow Truck
Dimensions: 1.92×1.34
Stitch Count: 2,968
8. Tow-Away Sign
Dimensions: 1.29×2.06
Stitch Count: 2,920
9. Train Engine
Dimensions: 1.42×1.69
Stitch Count: 3,031
10. Railroad Crossing Sign
Dimensions: 0.90×2.11
Stitch Count: 1,959
11. Sportscar
Dimensions: 2.93×0.83
Stitch Count: 2,740
12. Speed Sign
Dimensions: 1.84×0.39
Stitch Count: 1,040
Available Formats - All designs come in the following embroidery formats: dst, exp, hus, jef, pes, shv, vip, vp3, xxx.
Designs will be downloaded in one zip file. If for some reason your desired format is not found, please contact us.