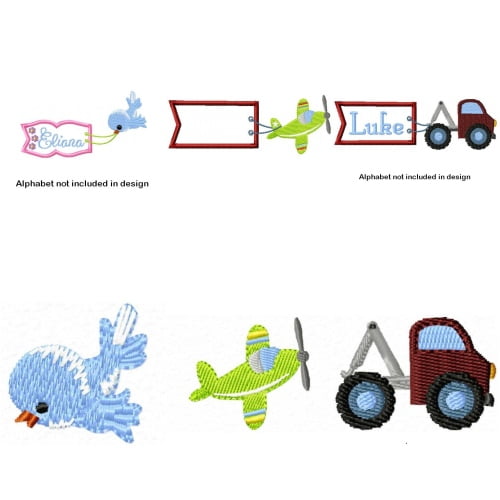 There are a total of 8 designs in this set: 4 full-sized banner designs (2 for girls; 2 for boys) and 4 miniature complementing designs. The 4 full-sized designs are for the 5×7 hoops; the 4 miniature designs are all 1.5″tall or less. These designs were digitized for towels but would also look great on pillows, diaper totes, wallhangings, clothing items. Take the miniature designs as accents to highlight the main design.
Artists: Judy Sanqunetti
Alice Smith
Gran Gran
Click on thumbnail for larger image. Any alphabet letters that appear on images ARE NOT INCLUDED.
1. Airplane BannerDesign Dimensions:
2.50×6.85″Stitch Count:
7,301
2. Tow Truck
BannerDesign Dimensions:
2.15×6.94″Stitch Count:
10,929
3. Mini Tow TruckDesign Dimensions:
1.48×1.02″Stitch count:
1,939
4. Mini PlaneDesign Dimensions:
1.50×1.39″Stitch Count:
1,858
5. Girly One Bird BannerDesign Dimensions: 6.71×3.53″Stitch count:
9,548
6.
Girly 2 Bird BannerDimensions:
3.43×5.71″Stitch Count:
8,555
7. Little Blue BirdDesign Dimensions:
0.92×0.94″Stitch Count:
1,158
8. Single DaisyDesign Dimensions: 0.37×0.37″Stitch Count:
212
Available Formats - All designs come in the following embroidery formats: dst, exp, hus, jef, pes, shv, vip, vp3, xxx.
Designs will be downloaded in one zip file. If for some reason your desired format is not found, please contact us.