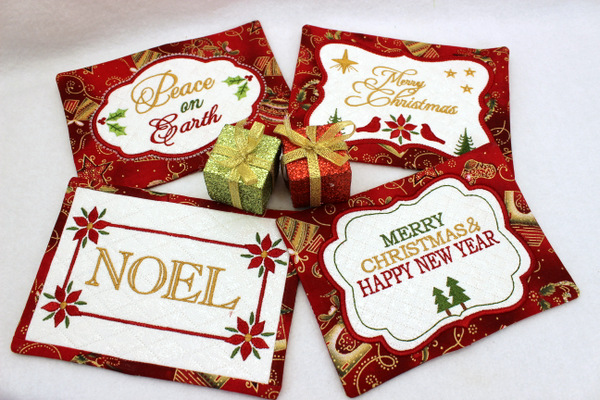 The greetings on this set of 4 mug rugs reflect the real reason for the Season. Send them as Christmas greeting cards with a practical use. The center background is geometrically quilted and three of the mug rugs are reverse appliqued. It's easy to do; we show you how.
No hand or machine stitching required. Also included is a printable, coordinating tag (in pdf format). The tag explains what a mug rug is and how to wash it. You are also receiving 4 plain mug rugs for you to insert a design or wording of your own choice, for a total of 8 stitch files.
For 5×7 hoops.
Graphic artist: www.mygrafico.com
Lilly Bimble (frames for mug rug 1 ,2 and 4)
Babystar Design (frame for mug rug 3)
Dimensions & Stitch Counts
Merry Christmas MR 1 6.99×5.00″ 17,049
Merry Christmas MR 1 Plain 6.99×5.00″ 7,010
Noel MR 2 6.99×5.00″ 13,216
Noel MR 2 Plain 6.99×5.00″ 3,175
Merry Christmas Happy New Year MR 3 7.00×5.00″ 14,342
Merry Christmas Happy New Year MR 3 Plain 7.00×5.00″ 8,102
Peace MR 4 6.99×5.00″ 12,871
Peace MR 4 Plain 6.99×5.00″ 6,379
Available Formats - All designs come in the following embroidery formats: dst, exp, hus, jef, pes, shv, vip, vp3, xxx.
Designs will be downloaded in one zip file. If for some reason your desired format is not found, please contact us.