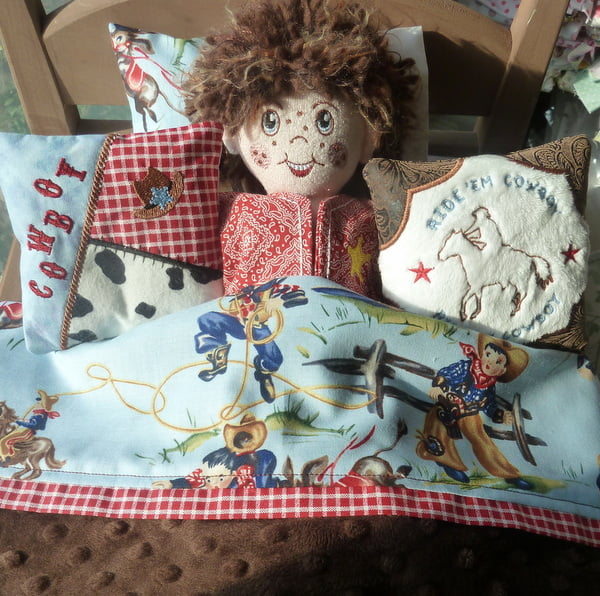 Now our Buddy doll can sleep in comfort, too! This fun set (which can be stitched in the 5×7 hoop) consists of:
3 in the hoop pillows;
1 design Cowboy Dreams in two sizes (doll and standard pillow size)
6 miniature cowboy redwork designs (for doll rag quilt)
1 pillow insert (for doll pillow case)
Sewing instructions for a doll pillow case, with detailed photos and tutorial on how to place embroidery design properly. Also comes with instructions on how to make standard size pillow case for child.
Sewing instructions for a lined blanket
Sewing instructions for making a fitted sheet for a doll bed mattress.
Bonus sewing instructions for making a doll rag quilt and doll rag pillow are also included with your purchase. The little redwork designs used on the quilt are part of your purchase; the 2 miniature cowboy designs are not, but are available for purchase separately.
In total there are 12 stitch files included as well as 4 separate sewing instructions.
Dimensions, Stitches & Finished Size
In the hoop designs
Crazy Patch Pillow 4.96×4.94″ 6,944 4.5×4.5″
Rectangular Pillow 6.91×3.03″ 5,354 6.25×3.5″
Ride Em Cowboy Pillow 5.02×5.00″ 9,005 4.6×4.6″
Pillow Insert 6.77×4.84″ 1,352 6.75×4.75″
Redwork/Fill designs
Cowboy Dreams Doll 3.53×0.97″ 2,449
Cowboy Dreams Boy 5.76×1.58″ 3,886
Revolver 1.99×1.33″ 450
Saddle 1.69×2.00″ 850
Sheriff Post 1.72×1.97″ 707
Sheriff Star 2.00×1.90″ 455
Wagon 2.49×2.05″ 1,808
Wanted Poster 1.44×1.97″ 1,452
Artists:
Redwork designs www.clipartopolis.com
Sheriff star www.mygrafico.com (Cupcake Cutiees)
Cowboy hat www.digiwebstudio.com
Cowboy motif www.quiltrecipes.com
Available Formats - All designs come in the following embroidery formats: dst, exp, hus, jef, pes, shv, vip, vp3, xxx.
Designs will be downloaded in one zip file. If for some reason your desired format is not found, please contact us.