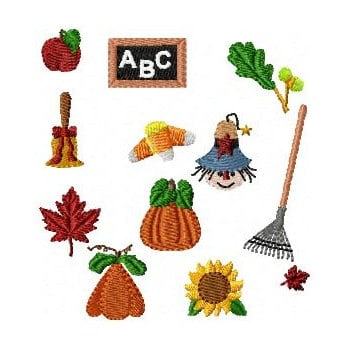 Embroidery Miniatures
A total of 12 fall embroidery miniatures designs. Designs work perfectly with my 2″ Twinkle Star Alphabet as shown in sample photo. This set of 12 truly miniature designs is a joy to stitch out. Eleven out of the 12 designs are under 1″, the 12th one is 2″ (the little rake). They fit beautifully on collars, pockets, cuffs, ribbons, corners of napkins and so many other items where smaller designs are desirable. The stitch count is low yet covers well.
Wherever possible, I have maintained detail while at the same time making sure that the stitch quality is not compromised. The designs are perfect also for doll and newborn clothes.
Use these designs as add ons to plain alphabets you already own. Also perfect with my Twinkle Star Satin Alphabet.
Dimensions and Stitch Count for Fall Minatures
1. Apple (Itty Bitty)
Dimensions: 0.50×0.55″
Stitch Count: 395
2. Bell
Dimensions: 0.49×0.98″
Stitch Count: 580
3. Blackboard
Dimensions: 1.00×0.64″
Stitch Count: 1,404
4. Candy Corn
Dimensions: 0.87×0.54″
Stitch Count: 520
5. and
6. Maple Leaf and Maple Leaf (Itty Bitty)
Dimensions: 0.8×0.91″ 0.37×0.33″
Stitch Count: 801 149
7. Oak Leaf
Dimensions: 0.99×0.93″
Stitch Count: 73l
8. Pumpkin
Dimensions: 0.79×0.94″
Stitch Count: 967
9. Pumpkin (whimsy)
Dimensions: 0.78×0.98″
Stitch Count: 1,019
10. Rake
Dimensions: 0.82×2.06″
Stitch Count: 721
11. Scarecrow Head
Dimensions: 0.,85×1.00″
Stitch Count: 1,073
12. Sunflower
Dimensions: 0.81×0.74″
Stitch Count: 96
Available Formats - All designs come in the following embroidery formats: art, dst, exp, hus, jef, pes, shv, vip, vp3, xxx.
Designs will be downloaded in one zip file. If for some reason your desired format is not found, please contact us.