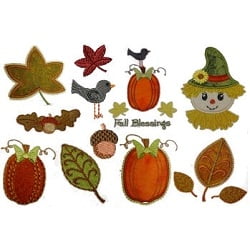 This set of 12 fall applique designs uses both applique and fill stitches. There are some larger designs for the 5×7 hoops with complementing designs that fit the 4×4 hoops. Great for clothing items, tablecloths, pillows, and totes. The lacey applique edge adds an elegant touch to these designs. Please see sizes below.
The artist is Sugar Bear Graphics
Guest towel blanks by www.allaboutblanks.com
1. Applique Beech Leaf
Design Dimensions: 2.18×3.75
Stitch Count: 4,067
2. Applique Beech Leaf Combo
Design Dimensions: 3.54×3.98
Stitch Count: 8,378
3. Single Beech Leaf
Design Dimensions: 1.07×1.46
Stitch Count: 2,178
5. Applique Maple Leaf
Design Dimensions: 3.79×3.57
Stitch Count: 9,842
6. Fall Blessings
Design Dimensions: 4.34×5.52:
Stitch Count: 10,965
7. Small Pumpkin
Design Dimensions: 1.56×1.83
Stitch Count: 2,874
8. Small Maple Leaf
Design Dimensions: 1.23×1.04
Stitch Count: 1,613
9. OakLeaves
Design Dimensions: 2.56×1.24
Stitch Count: 3,324
10. Applique Pumpkin
Design Dimensions: 2.70×3.31
Stitch Count: 4,294
11. Scarecrow Head
Design Dimensions: 2.72×3.89
Stitch Count: 10,207
12. Little Crow
Design Dimensions: 1.54×1.41
Stitch Count: 1,506
Available Formats - All designs come in the following embroidery formats: dst, exp, hus, jef, pes, shv, vip, vp3, xxx.
Designs will be downloaded in one zip file. If for some reason your desired format is not found, please contact us.