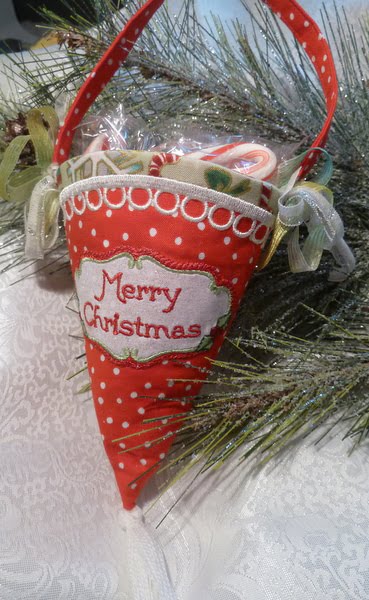 Except for one final seam, these cones are completed as an in the hoop project. All seams are hidden. The handle can be made from fabric or from ribbons. You are receiving two stitch files in two sizes: one with the words Merry Christmas, another with an empty label for you to enter a name or initials or other wording of your own choosing. Clear instructions with photos are part of your download. Also included are instructions on how to make a small tassel. Decorate these cones to your heart's content. These look great hanging from Christmas trees, instead of the usual small stockings. Fill them with Christmas goodies. The larger one holds a gift card comfortably. The font shown with the name insertion is our LilUpdock Font, for sale separately.
Design Dimensions & Stitch Counts
Merry Christmas Cone 6×10 5.95×9.92″ 16,123
Merry Christmas Cone 5×7 4.92×6.98″ 12,562
Labelled cone only 6×10 5.95×9.92″ 14,023
Labelled cone only 5×7 4.92×6.98″ 12,562
Artist Credit
Graphic artist for label: www.mygrafico.com (Babystardesign)
Available Formats - All designs come in the following embroidery formats: dst, exp, hus, jef, pes, shv, vip, vp3, xxx.
Designs will be downloaded in one zip file. If for some reason your desired format is not found, please contact us.