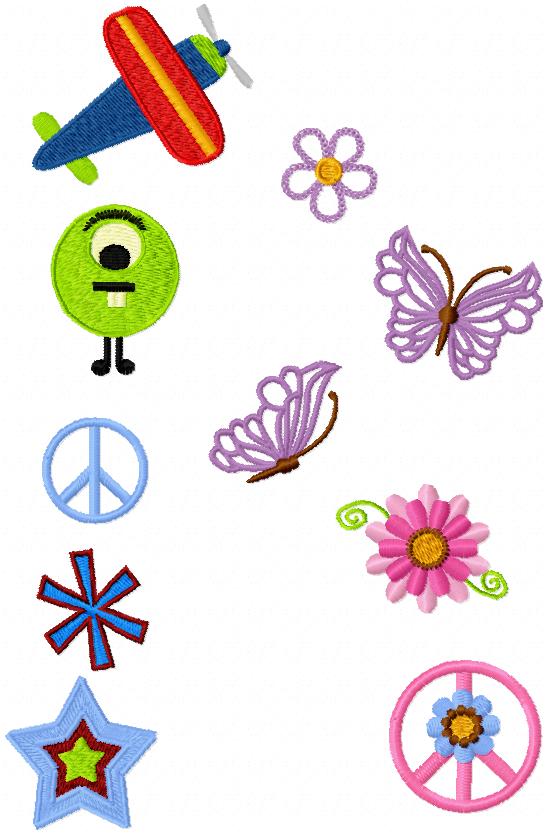 This set of 10 miniature designs is perfect for embellishing alphabets as well as other items for children. Place them on journals, doll clothing, book covers and bags. All designs are under 2 in height, with the airplane being slightly larger. Letters and doll/head scarf instructions are not included.
Design Dimensions & Stitch Count
Little airplane 2.30×1.87 3,640
Peace sign boy 1.10×1.10 1,170
Little monster 1.32×1.77 2,838
Punky star 1.15×1.26 1,556
Triple star 1.57×1.59 3,081
Flower 1 0.98×0.98 738
Flower 2 1.78×1.32 2,282
Butterfly open 1.75×1.61 3,368
Butterfly Side 1.37×1.26 1,893
Peace sign girl 1.58×1.58 1,954
Graphic artists:
Airplane www.digiwebstudio.com
Butterflies www.designstitch.com
Little Monster www.mygrafico.com (Cupcake
Peace signs www.mygrafico.com (Babystar Design)
Flower 2 www.mygrafico.com (Goodness and Fun)
Stars and lil monster www.mygafico.com (Cupcake Cutiees)
Available Formats - All designs come in the following embroidery formats: dst, exp, hus, jef, pes, shv, vip, vp3, xxx.
Designs will be downloaded in one zip file. If for some reason your desired format is not found, please contact us.