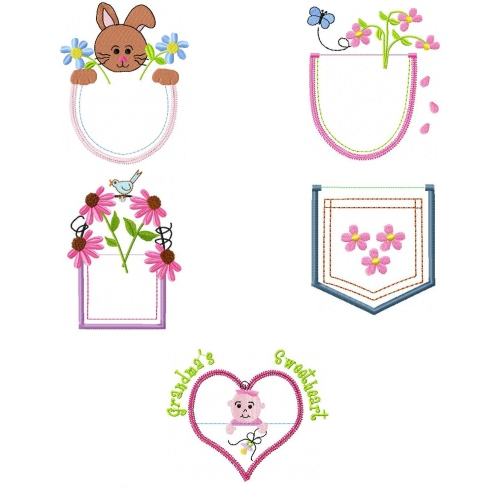 These designs are for the 5×7 hoops and consist of a set of 5 designs that will create an actual, functional pocket that can be used on little girls outfits, totes, placemats, etc. I think you will be pleased with how well they stitch out and lead to a consistently professional looking pocket.
These pockets will be a wonderful addition to any little girl's outfits. 4 of the designs are functional (though small) pockets; the fourth pocket (little baby in pocket) is not functional but would look wonderful on a grandma's t-shirt or sweatshirt. Or how about a baby's diaper bag There is room in the center over the "heart" to place a child's name. To make the baby look like a boy, just leave off the little bow in the hair. The designs come with detailed instructions.
1. Coneflower Pocket
Dimensions: 4.55×6.37
Stitch Count: 16,086
2. Bunny Pocket
Dimensions: 5 x 6.23
Stitch Count: 12,987
3. Butterfly Pocket
Dimensions: 4.75×5.52
Stitch Count; 7,157
4. Flowery Jeans Pocket
Dimensions: 3.75×3.98
Stitch Count: 6,326
5. Grandmas Sweetheart Pocket
Dimensions: 3.97×3.86
Stitch Count: 5,118
Available Formats - All designs come in the following embroidery formats: art, dst, exp, hus, jef, pes, shv, vip, vp3, xxx.
Designs will be downloaded in one zip file. If for some reason your desired format is not found, please contact us.