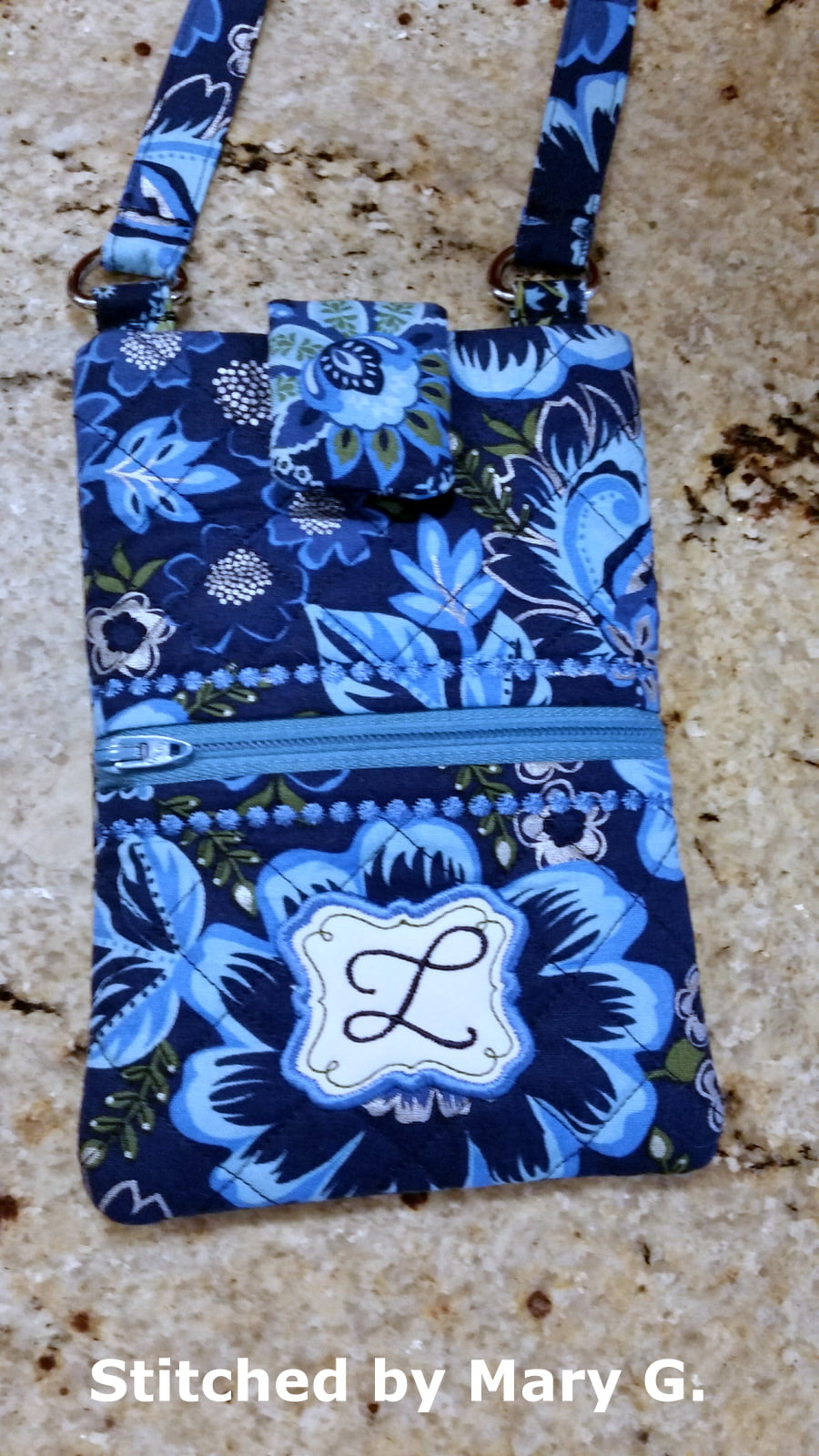 This larger version of our Smart phone case is fully quilted (front and back). The top is open and has a tab with Velcro closure. This allows for easy access to your phone. The open top with Velcro tab ensures that the phone does not have to be exposed to a zipper when removing and inserting it. In addition, the case has a zippered front pocket to hold a key, credit card, and some change. The whole case is fully lined. No seams visible, including inside the zippered pocket. A small amount of machine stitching is required, if you wish to use a fabric strap. This case can be worn across your upper body while going shopping, for a stroll in the park, etc. The front comes with and without the label. .6″ size monogram letters (capital letters only) are part of your purchase. Also included are instructions for the making of an adjustable strap. For 6×10″ hoops.
Accommodates (comfortably ) larger phones like the iPhone 6 Plus.
Final case dimensions: 7.00″x 4 7/8″
Design Dimensions Stitch Counts
Velcroed tab 1.85×3.00″ 936
Quilted back 5.26×7.25″ 2,687
Quilted front with label 5.28×7.25″ 7,149
Quilted front (no label) 5.28×7.25″ 4,966
Average height of monogram 0.60″
2 cotton fabrics (one for the outside of the case; the other for the lining)
1 small piece of fabric for the label
Grosgrain ribbon — 5/8″ wide (shown is 7/8″)
Fusible fleece (light weight like Pellon 987 F)
Steam a Seam 2 or similar bonding product
1 at least 9″ all purpose polyester or nylon zipper; NO metal teeth! (Can be longer than 9″ (excess gets cut off at the end), but not shorter).
Embroidery adhesive spray (optional)
Medium weight tear away stabilizer for the front; the remainder could be stitched on Polymesh (woven
medium weight cut-away stabilizer) or on medium weight tear away.
A small piece of Solvy, water soluble, clear see through stabilizer
Light to medium weight interfacing
Mini Clover or Wedge iron (optional)
Spray sizing or spray starch
Small, curved tip scissors
Velcro tape (hook and loop sides)
Temporary (washable) school glue stick
(2) 1″ or 1.25″ 0-rings
(1) 1″ or 1.25″ slider buckle (for adjustable strap)
Embroidery adhesive spray
Painter's tape
Available Formats - All designs come in the following embroidery formats: dst, exp, hus, jef, pes, shv, vip, vp3, xxx.
Designs will be downloaded in one zip file. If for some reason your desired format is not found, please contact us.