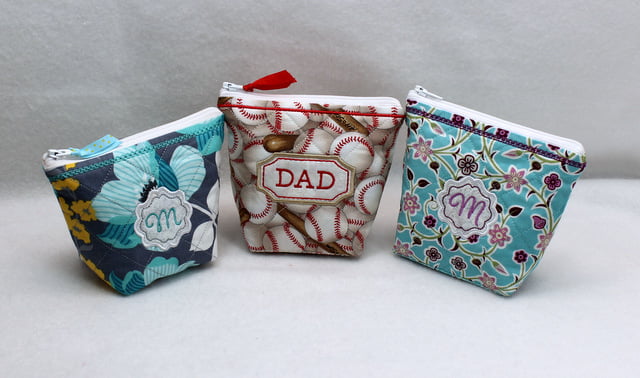 This little zippered bag is a partial in the hoop project. The zipper is applied in the hoop and, if you have never done this before, you will be surprised at just how easy it is do so. The bag is geometrically quilted in the front and back; this is also accomplished in the hoop. The inside is lined and no seams are visible. Some straight line stitching on the sewing machine is required. This bag requires one hooping and then gets completed on the sewing machine.
You are receiving three versions of the bag: One with a round decorative label, another with a rectangular label, and one plain one. No font included with purchase.
If you have made zippered bags before — please put your previous experience aside and follow my instructions closely.
There may well be times during your making of this little bag when you wonder how this could possibly turn out right! But the design has been tested several times and always turns out fine — as you can see from the
actual stitchouts. So, if and when doubts arise, please just follow the instructions.
Bag with round label 5.87×9.39″ 6,259
Bag with rectangular label 5.86×9.37″ 6,279
Plain bag 1 5.87×9.39″ 4,521
Plain bag 2 5.86×9.37″ 4,981
Finished bag size: 4.50″ tall x 3.00″ wide x 2.50″deep
SUPPLIES NEEDED
2 coordinating fabrics — one for the outside of the bag, the other for the
lining.
1 scrap of fabric for the label (if chosen)
(1) 12″ polyester or nylon zipper to coordinate with the fabrics chosen
NO metal teeth!!
Medium weight tear away stabilizer
Fusible fleece (Pellon 987 or 971 — preferred)
Painter's tape
Spray adhesive for embroidery machines
Small curved tip sharp scissors
Steam a Seam 2 Lite
Small Clover Mini or Wedge iron
Available Formats - All designs come in the following embroidery formats: dst, exp, hus, jef, pes, shv, vip, vp3, xxx.
Designs will be downloaded in one zip file. If for some reason your desired format is not found, please contact us.