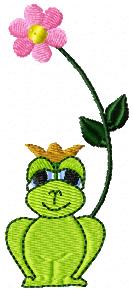 I wanted to share a story regarding my oldest grandson (Siddiq). Like many "Aspies" Siddiq LOVES animals. If he had his way, he would have a dog but his Mom and Dad think it's more important to prepare for a new sibling who has announced his arrival in October. It has to be a boy, you know. There are already two girls and Siddiq is convinced it's going to be boy. We'll see if he's right! 🙂
Anyways, since he can't have a dog he has "settled" for frogs. And there is a great abundance of those in Grandma's yard. So the other day as Siddiq and I were talking outside, there happened to be the cutest little frog sitting on the deck's handrail, about an inch from my hand! Siddiq's Uncle and his wife were visiting from Switzerland and Siddiq and Uncle Udo together explored the internet to find out what kind of a frog it was. It turned out to be tree frog – not very common in our area. Well, Siddiq and froggie became really good friends. He took him home with him, carried him on his hand, his finger, his shoulder and froggie seemed very content with Siddiq. Last Saturday Siddiq and his Dad went for a walk and Siddiq decided that it was time to release froggie back into nature. It was hard for him – but he did it and then was sad for the rest of the day. Late in the evening as Dad came in the front door of their house, there was a tiny baby frog sitting right outside their door. Dad picked him up and took him to Siddiq who was almost asleep. He woke up quickly and exclaimed: I have been praying all day that God would send me a new frog! What reminder that God cares about our every need – even a little boy's desire for a froggie friend.
To help you all remember that God indeed cares about all of our concerns, I am making a little froggie available for free download. I just finished this one as part of a wallhanging I am making for one of my granddaughters. The alphabet I am using for the wallhanging will be available sometime within a month or so. Just a little preview here with the froggie. Graphics by Trina Clark and friends at www.digiscrapkits.com.
[download#119#nohits].zip
Take care and God bless you all.
Monika