As 2017 draws to a close, memories flood my mind and soul. Most prominent in my mind is the day that my life changed forever: March 29th, 2017, the day the Lord called John, my husband and best friend, to his eternal home. Life has been an emotional struggle for me since. My family and my friends have been there to support and encourage and the Lord has been my Strength and Comfort.
For Christmas, I made my 7 grandchildren a memory pillow to help them with their own grieving. Grandpa loved his children and grandchildren. And they loved him. I wanted them to have something tangible they could hold in their hands that would remind them of him. I took some of Grandpa's frequently worn shirts and pieced together a small pillow that they could hug, hold close and feel like they were being hugged by grandpa. As they were opening their "gift from grandpa", it was precious to see each child's reaction to the pillow.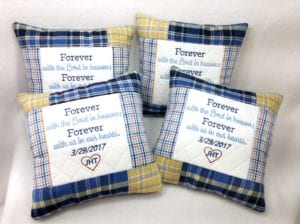 As all of us look ahead into the future and a new year, it can be frightening, worrisome. I am reminded of Corrie Ten Boom's words: "Never be afraid to trust an unknown future to a known God." May God bless you and yours.
Edit: After many requests this Memory Pillow designs is now available for 7×7 hoops. It can be purchased here: https://www.omasplace.com/ed/memory-pillow-7×7/