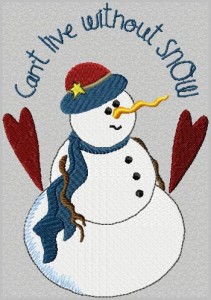 I wanted to let you know that I will NOT be posting the cute little scarecrow of which you have seen a photo here. He has been problematic with the outline feature. I am not happy about that and in order to correct it would have to redo the whole design. So, I am deciding to NOT post him but instead tell you where you can get him and a whole set like him by a more experienced digitizer. Also, if you join her yahoo group, you can still get the little fellow for free. So, go visit: bettysoriginalembroideries.com She has some great and very reasonably priced designs. Looks like Betty and I both like the country style designs and have both purchased graphics from Trina Clark's website. Enjoy.
Also, to show you what I have been working on lately, I posted the photo above. It is the beginning of a set of snowmen as well as some CHRISTmas designs. Thought I should be focusing my attention on that rather than on more fall designs.
Have a great weekend and talk to you later.
Update 9/16/18: It looks like Betty's Original Embroideries is no longer in business 🙁