Yes, I have to admit, I am highly distractible and get easily side tracked. Haven't spent much time with my "little cowboys" but instead have been working on birthday gifts for Saarah. I am showing you two of them below.
The towel is a super soft towel, high loft, from K Mart. I cut off the bottom edge and scalloped it and then applied a thin binding to the bottom. Had this special "ruffle" ricrac lying around for a while and decided that it would look good with it. The lettering is my upcoming new applique as well as satin alphabets called "Anna". The lettering is especially digitized for toweling or other thick napped fabric. Also, the applique edge on the lettering is not quite as dense as usual to allow for better writing over it with the satin lettering. The little butterfly is applique and stitches up very well and quickly. Look for it in the store soon. (I don't know why the towel lettering shows up as orange – it really is a pretty peachy kind of color.)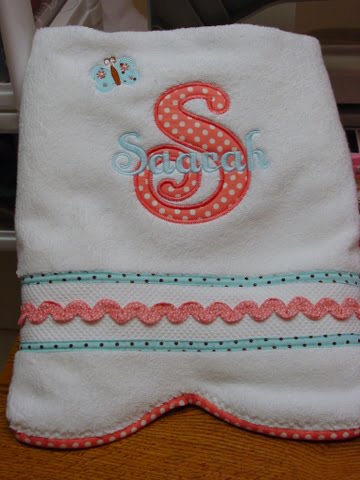 Then I made Saarah her own version of the 10 Commandments for kids. She loves, loves, loves butterflies and flowers. So that's what this design has. Specially digitized for Saarah. It, too, should be in the store sometime soon…. unless I get side tracked again. Sigh.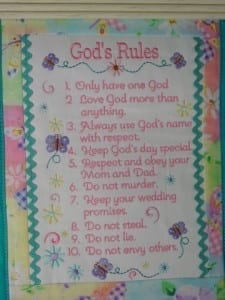 Oh, I almost forgot to mention. I got a neat miniature quilt hanger from here:
http://www.lorieslittlequilts.com/Quilt_Hangers_Mini_Classic.htm
You can't really see the hanger very well in my photo, but if you ever need high quality quilt hangers, for miniatures or large, this place is great. I like the way this hanger clamps on and how the sides are covered. You can also get their hangers with a shelf on top.
I need to finish a couple more things for Saarah's birthday – a dress and a purse – before I can get back to the cowboys. But I will do so as soon as I can because little Effie's room walls look pretty bare…..
Talk to you later.
Monika