This is a question we receive quite frequently!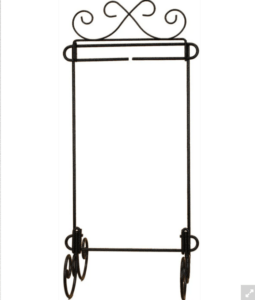 Wire Stands
We do not sell them directly (maybe we should!) but we purchase them from Ackfeld Wire:
The stands we like to use:
TABLE TOP STANDS
Product number: 87757 – color black or gray
12×14″ stand (for mini quilts)
6×12″ stand (for banners)
HANGERS/HOLDERS
Product number: 88380 French Curl holder color gray
Again, these are just some of the ones they have that are featured in our photos. Please feel free to look at their site and purchase more. We don't get any kind of commission or affiliate cut.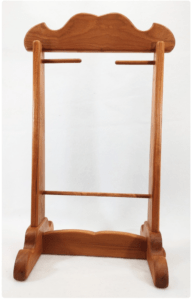 Wood Stands:
If you are looking for a beautiful way to display your banners and mini quilts, Bob's Fine Wood Art shop has just the right thing for you. His table top stands are hand made of solid wood and really enhance your mini quilts. Keep the stands up all year and change out banners and mini quilts seasonally or display our inspirational mini quilts for daily encouragement. These stands make great gifts, too, combined with one of our mini quilts. The stands are available in natural cherry, natural maple, as well as walnut. Also available is a Java stained walnut stand.