Free applique pocket for little girls. Place it on bibs, jumpers, onesies, blankets etc. for a fun accent. If you need a refresher on how to make the faux binding at the top of the pocket, please refer to Oma's Place's tutorial on applique pockets here:
https://www.omasplace.com/tutorials/
You are receiving the pocket as it is depicted above for 5×7 hoops. For 4×4 hoops, I have split out the pocket and then also included a little lady bug that you can place as you please.
Have fun with this and please let us see photos of your projects.
Artist: www.countrylifegraphics.com
Design Dimensions & Stitch Counts
Full pocket and ladybugs 4.81×4.27″ 2,488
Pocket only 3.90×3.81″ 1,900
Ladybug 0.81×0.51″ 595
Users who purchased Applique Pocket with Ladybugs, also purchased:
Bunny Snackmat (6×10)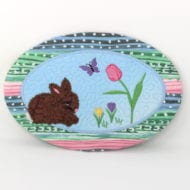 $6.50
Pansy Mug Rug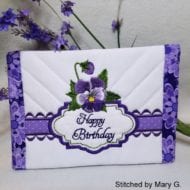 $7.50
Tulip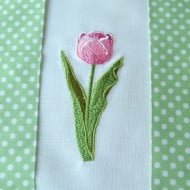 $4.50