This fun in the hoop project comes in two versions: One with a piece of birthday cake; another one without the cake, allowing space for you to add a name. Included with your purchase are also the capital letters of our ¾" Chicago font to make adding of a name more convenient. There is only a small opening at the bottom edge that will need to be either hand stitched or fused shut.
Why not send a birthday mug rug instead of a card?
For 5×7 hoops.
Design Dimensions Stitch Counts
Happy Birthday mug rug 7.00×4.57″ 11,209
Happy Birthday with cake 7.00×4.57″ 12,681
Graphics: www.digiwebstudio.com
Font: Oma's Place has purchased from Nicholas Curtis an exclusive license for the digitizing of this font for the embroidery trade.
Users who purchased Birthday Mug Rug, also purchased:
Birdie Mug Rug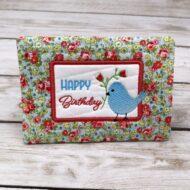 $7.50
Cupcake Mug Rug (5×7)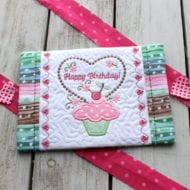 $7.50
Summer Mug Rug 2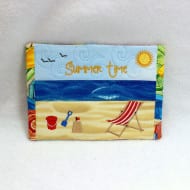 $6.75