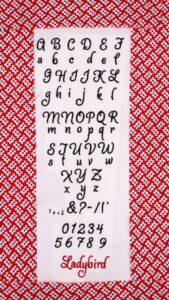 Most of the letters of this font are around 0.50". However, please note that several of the letters have descenders that make the font larger than the 1/2". Use this font to give labels and lettering a playful appearance.
Free Sample: Please try our font sample before purchasing.
Your download includes all lower and upper case letters and numbers 0 through 9. In addition, some commonly used punctuations are part of your download as well. Comes in 9 different machine formats as well as in bx for Embrilliance users. Not available in ART format.
Dimensions Stitch Counts
Capital A 0.36" w x 0.54" h 286
Lower case a 0.21" w x 0.26" h 159
Extended license purchased from font author.