This set is a combination of our in-the-hoop Tea designs. You will receive:
Tea Pocket (5×7)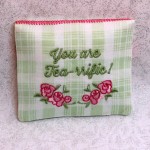 This small pocket is stitched completely in the hoop, no hand sewing required. There is a strap in the back under which to place the pocket's flap, securing the contents of the little bag. A little rose bud decorates the flap and a rose motif adorns the front. There are three versions of this little pocket: The tea pocket with the rose motif and the words "You are tea-rrific"; the pocket with the rose motif, but no wording so you can place an initial or monogram; the pocket with the rose motif and a cross so that the pocket can be used as a prayer pocket as well. No alphabet is included with this design. For 5×7 hoops or larger. The design is completed in one hooping and stitches up quickly. Read more here or purchase separately.
Tea Mug Rugs (5×7)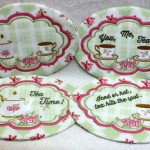 This set of 4 tea themed mug rugs features a reverse appliqued center. It is very easy to do. We will show you how with detailed instructions and photos. The back of the mug rugs gets fused shut, or, if you prefer, closed by hand stitching. Comes with a printable coordinating tag/card (in pdf format) that explains what a mug rug is and how to care for it. Also included is a plain mug rug without the roses and tea themes, allowing you to use it to showcase some fancy fabrics or other designs of your own choosing. These mug rugs are great used as greeting cards, too. Read more here or purchase separately.
Tea Time Mug Tote (6×10)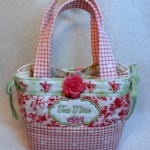 Now you can carry your own mug to work and quilting class. This little tote is mostly done as an in the hoop project. Some machine sewing and a small amount of handsewing (sewing on of button) is required for this project. The tote is well padded so your mug will be safe. Roomy enough for a medium sized mug, a mug rug, and a treat. The front of the tote has a label that is reverse appliqued (it's easy; we show you how) with and without the words "Tea Time". Read more here or purchase separately.