Is there somebody you know who is going through a difficult time and you would like to be an encouragement to him or her? Why not do it with this mug rug. Place it in an A7 envelope and mail it like you would a regular greeting card.
The background is stipple quilted and the background behind the ferns is reverse appliqued. This is a simple technique and is explained/demonstrated in the write up.
The design comes with thorough instructions in pdf format with clear photos.
You are receiving 2 stitch files: 1 mug rug with the wording as shown and another one without wording.
This project is entirely completed in the hoop; no additional sewing machine or hand stitching required.
Graphic artist: www.bluechairblessing.com
Finished mug rug size: 4.75×6.75″
Dimensions & Stitch Counts
Mug Rug with words 7.00×5.00″ 17,239
Mug Rug without words 7.00×5.00″ 10,937
Users who purchased Thoughts and Prayers MR (5×7), also purchased:
Dad Tie Mug Rug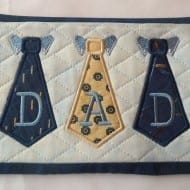 $5.85