{tab=Description}
This really is the ULTIMATE Christmas CD. 40 Christmas designs including 4 fonts! Has everything you need for your Christmas gift giving. Available as a digital download, flash drive (2GB) or on a physical CD. Please allow 7-10 days for shipping.
This CD contains many of our most popular Christmas projects. From giftbags to mug rugs, pillows, stockings, Christmas ornaments — there is something there for everybody on your Christmas shopping list. We even include 4 fonts to help you personalize your gifts.
In addition there are even some stocking stuffer projects that can be used all year — not just at Christmas.
All designs are of high quality and come with detailed instructions. The designs are in the hoop projects (some partial in the hoop) that always result in a professional looking gift. There are designs for 5×7 hoops as well as for larger hoops.
An incredible value pack.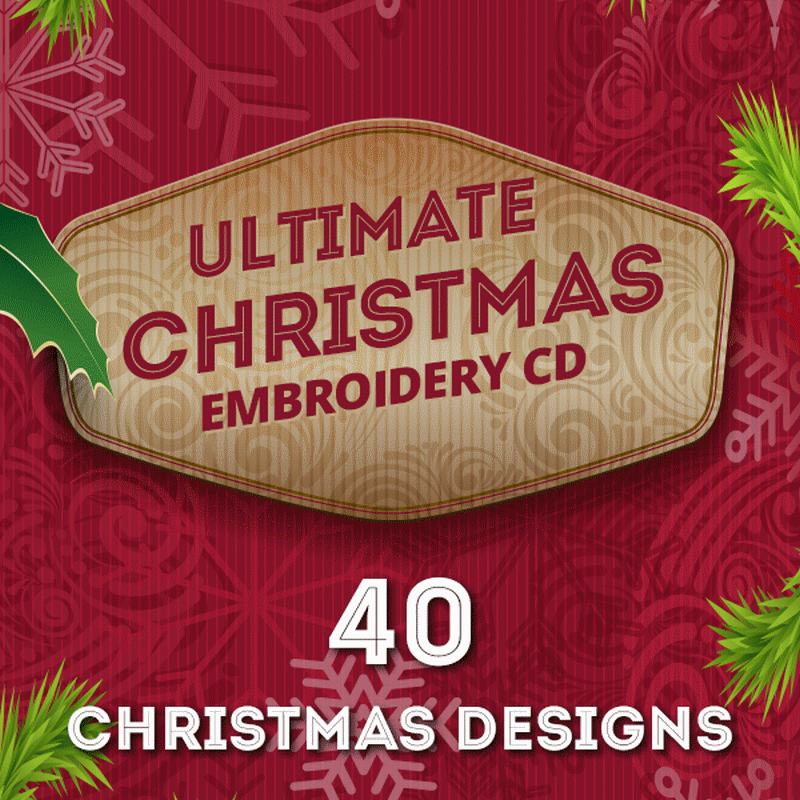 Included on CD:

10 Christmas bags
Christmas Cones
Drawstring Bag 5×7
Drawstring Bag 6×10
Drawstring Bag 7×11
Drawstring Bag 8×12
Ginger Cookie Bag
Snow Gift Bag
Tie Bags 5×7
Tie Bags 6×10
Tie Bags 7×11
4 Fonts
Eds Market Font Medium
Samantha 1 inch Monogram
Spumante .60
Tiny Alright
Glory Santa 7×12 Mini Quilt
Snowmen Mini Quilt
6 Misc Christmas Designs
3D Snowman
Christmas Candle Mat
Christmas Table Runner
Merry Christmas Sign
Split Ornaments
Split Ornament Potholders
4 Mug Rugs – click to see photos
Nordic Mug Rug Set
Snow Glad Mug Rug
Snowmen Mug Rug Set
Split Ornament Mug Rug
5 Ornaments
3D Gingerbread
Christmas Hearts 4×4
Gingers XL
International Ornaments
Nordic Christmas Ornaments
3 Christmas Pillows
Santa Pillow
Unto You Pillow
Unto You Pillow 6×10
3 Christmas Stocking Stuffers
Diagonal Zip Bag
Smart Phone Case
Smart Phone Case Large
3 Christmas Stockings
In the Hoop Stockings 5×7
In the Hoop Stockings 6×10
In the Hoop Stockings 7×11
Christmas Designs: 36
Fonts: 4
Total: Over 40 designs in 11 different formats!!!
{tab=Product Gallery}
{/tabs}