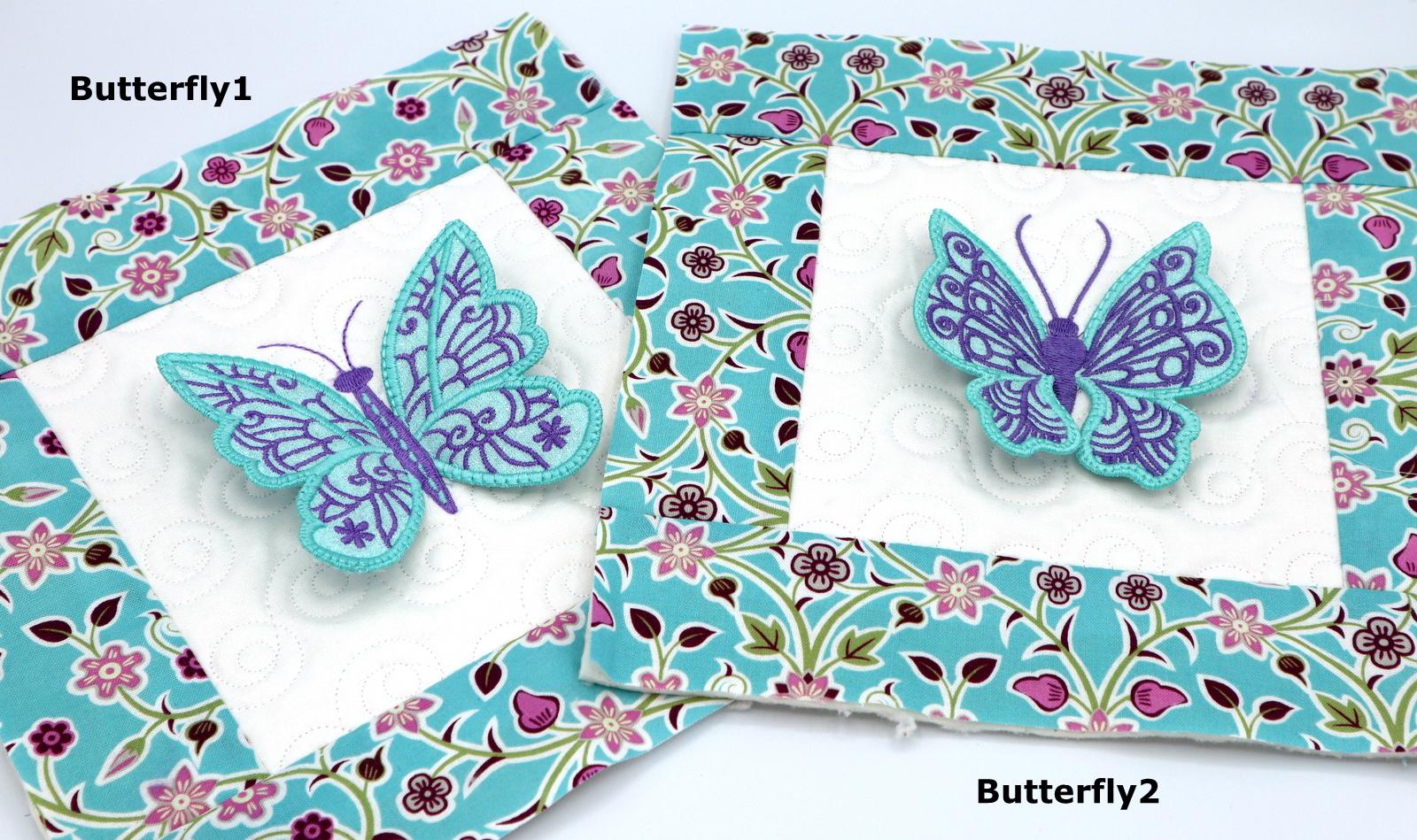 What a fun and versatile set of designs. The wings of the butterflies are freestanding. That makes these butterflies different from your usual applique designs. Perfect for a little girl's quilt, for placing on pillows, dresses, jackets, totes etc. Vary the fabrics and threads and you will be surprised just how many different looks and styles are possible. There are a total of 6 butterflies.
Also included in your purchase is an in the hoop quilt block in 3 sizes (for 5×7, 6×10 and 7×11 hoops). The quilt blocks include stitched lines for attaching 4 borders. This will allow you to create quilt blocks that can be used in other projects. In total, there are 9 stitch files included as well as very thorough instructions in pdf format.
Artists:
www.designstitch.com
www.diddybag.com
www.clipartoon.com
Design Dimensions & Stitch Counts
Butterfly 1
Wings 3.90"w x 3.38"h 13,140
Body 3.89"w x 3.46"h 1,848
Butterfly 2
Wings 3.81"w x 3.48"h 13,269
Body 3.83"w x 3.91"h 1,557
Butterfly 3
Wings 3.81"w x 2.69"h 7,449
Body 3.79"w x 3.82"h 2,735
Butterfly 4
Wings 3.87"w x 2.97"h 10,045
Body 3.88"w x 3.00"h 1,345
Butterfly 5
Wings 4.03"w x 2.70"h 7,831
Body 4.05"w x 2.98"h 1,386
Butterfly 6
Wings 2.26"w x 1.74"h 3,943
Body 2.27"w x 1.93"h 708
Available Formats - All designs come in the following embroidery formats: dst, exp, hus, jef, pes, shv, vip, vp3, xxx.
Designs will be downloaded in one zip file. If for some reason your desired format is not found, please contact us.