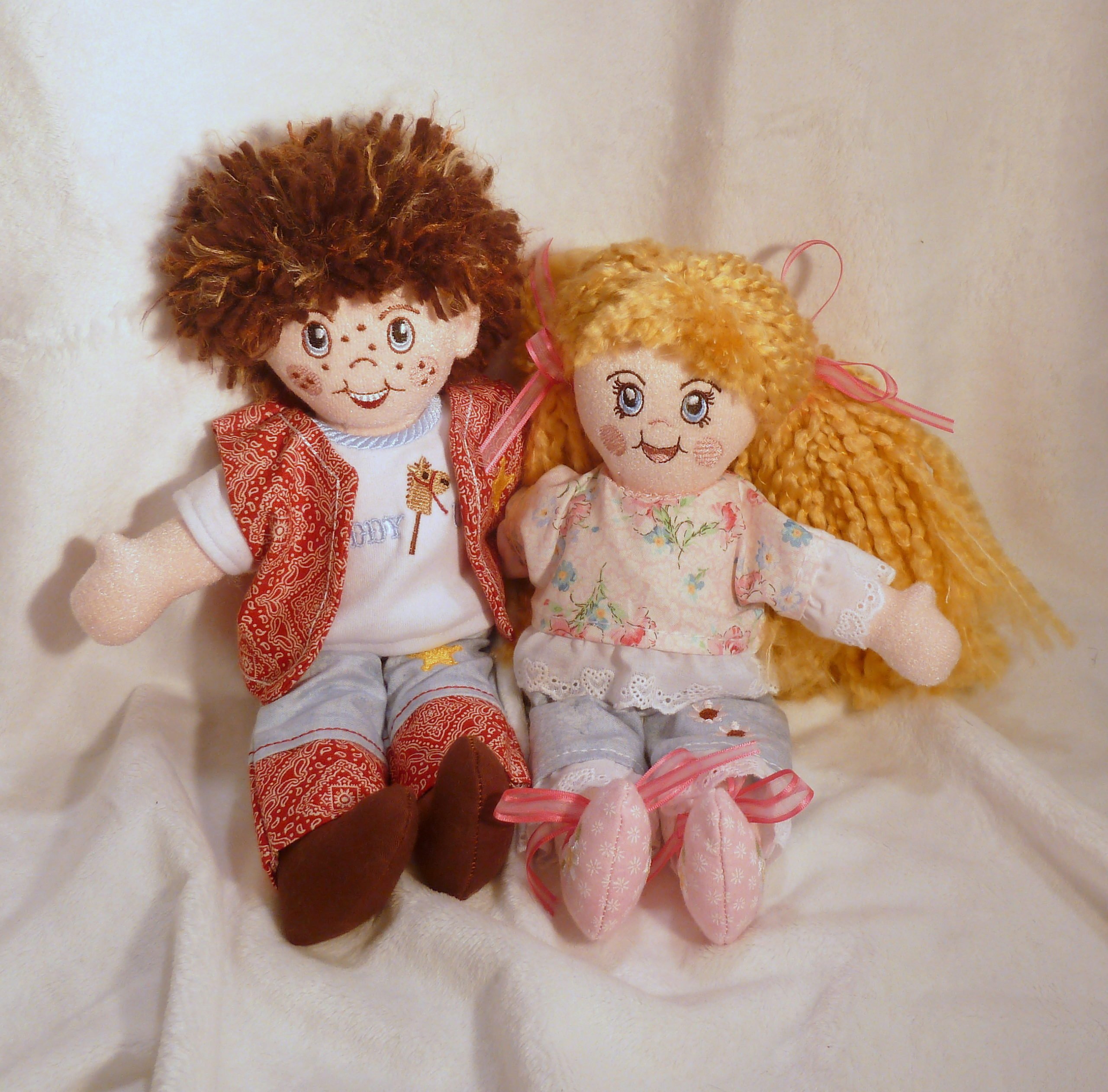 Meet "Blossom". We hope she will make many little girls happy this Christmas (or any time of the year!).
This is the first in a series of dolls that are made as an in-the-hoop project for 5×7 hoops. The doll comes with patterns for an embroidered dress, a top, a pair of pants, shorts, and undies. The clothing items are mostly completed in the hoop, with some machine and/or hand sewing required. Shoes are appliqued to the legs and a little blossom is stitched for Blossoms belly button. You are also receiving a leg design without the shoes. Detailed instructions for the doll, the clothing items, as well as the application of yarn hair are part of your purchase. The doll is shown with a size 8 doll wig. Links are provided for the purchase of such wigs, should you decide to use wigs rather than making yarn hair. Sewing instructions for a small doll carrying tote is also part of your purchase.
Doll finished size: 11.5
Here are some comments from one of our test stichers:
Hi everyone! I'm sure you know I love all of Monika's designs but I really think she has outdoone herself this time!! I just had to write a little note to let you all know how fun and easy this little Blossom Doll is to put together. I put her together within a few hours on and off throughout the course of the day because I was sick with the flu and tending to my little dog who was having her puppies! If I had just sat down to do the doll and nothing else it would have been no more than a couple of hours including her hair. The clothes likewise are very easy to do and I did those the next next day in no time flat. The instructions are easy as pie to follow with lots of pictures. Even the yarn hair was a breeze and completely on my little blossoms head in under 30 minutes. I sewed it to her head while watching TV. You will have a ball picking out fabrics for clothes and deciding on a hairstyle. The proof is in the pudding because my 5 year old granddaughter Abby absolutely LOVES her!! She has already picked out fabrics for more clothes. She has been playing with the doll constantly since I have completed her, and has shown way more interest in her than any of her store bought dolls. and asked if I could make Blossom a brother. So…Monika, Bring on the little brother!! LOL I think this would make a great Christmas Gift for any little girl.
Here are photos from her project:
Available Formats - All designs come in the following embroidery formats: dst, exp, hus, jef, pes, shv, vip, vp3, xxx.
Designs will be downloaded in one zip file. If for some reason your desired format is not found, please contact us.