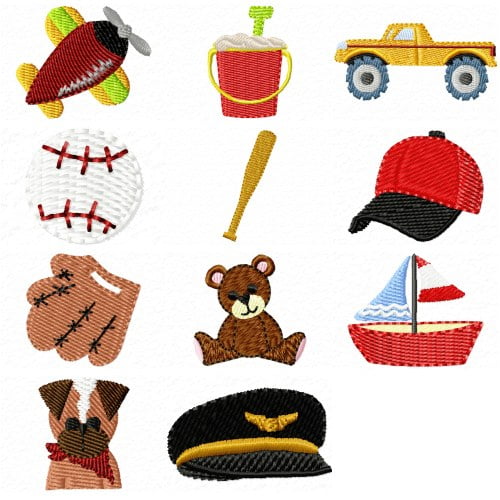 This set of 11 designs was digitized to be used with the Plain Hobby Horse Applique Alphabet sold by Omas Place. Of course, these little add-ons can be used with other plain alphabets, too, as well as on bibs, burps, onesies, childrens clothing or on childrens small quilts as centers for pieced quilting squares. All designs are somewhere in the 1-2 range and proportionately matched to the above alphabet.
Click on thumbnail for larger view:
1. Airplane
Dimensions: 1.54×1.27″
Stitch Count: 1,953
2. Baseball
Dimensions: 0.53×0.51″
Stitch Count: 354
3. Baseball Cap
Dimensions 1.22×1.00″
Stitch Count: 1,371
4. Baseball Bat
Dimensions: 1.13×2.37″
Stitch Count: 1,062
5. Bear
Dimensions: 1.33×1.32″
Stitch Count: 2,188
6. Boat
Dimensions: 0.76×1.56″
Stitch Count: 1,399
7. Doggy Top
Dimensions: 0.98×1.21″
Stitch Count: 1,819
8. Glove
Dimensions: 1.66×1.11″
Stitch Count: 1,440
9. Sandbucket
Dimensions: 1.12×1.48″
Stitch Count: 2,041
10. Truck
Dimensions: 2.5×1.19″
Stitch Count: 3,609
11. Pilot Hat
Dimensions: 1.18×0.67″
Stitch Count: 1,454
Artists: Alice Smith Whimsy Primsy of digiscrapkits.com
Cocoa Studio of cocoastudiodesigns.com
Trina Clark of digiscrapkits.com
Judy Nelson of sanqunettidesign.com
Available Formats - All designs come in the following embroidery formats: art, dst, exp, hus, jef, pes, shv, vip, vp3, xxx.
Designs will be downloaded in one zip file. If for some reason your desired format is not found, please contact us.