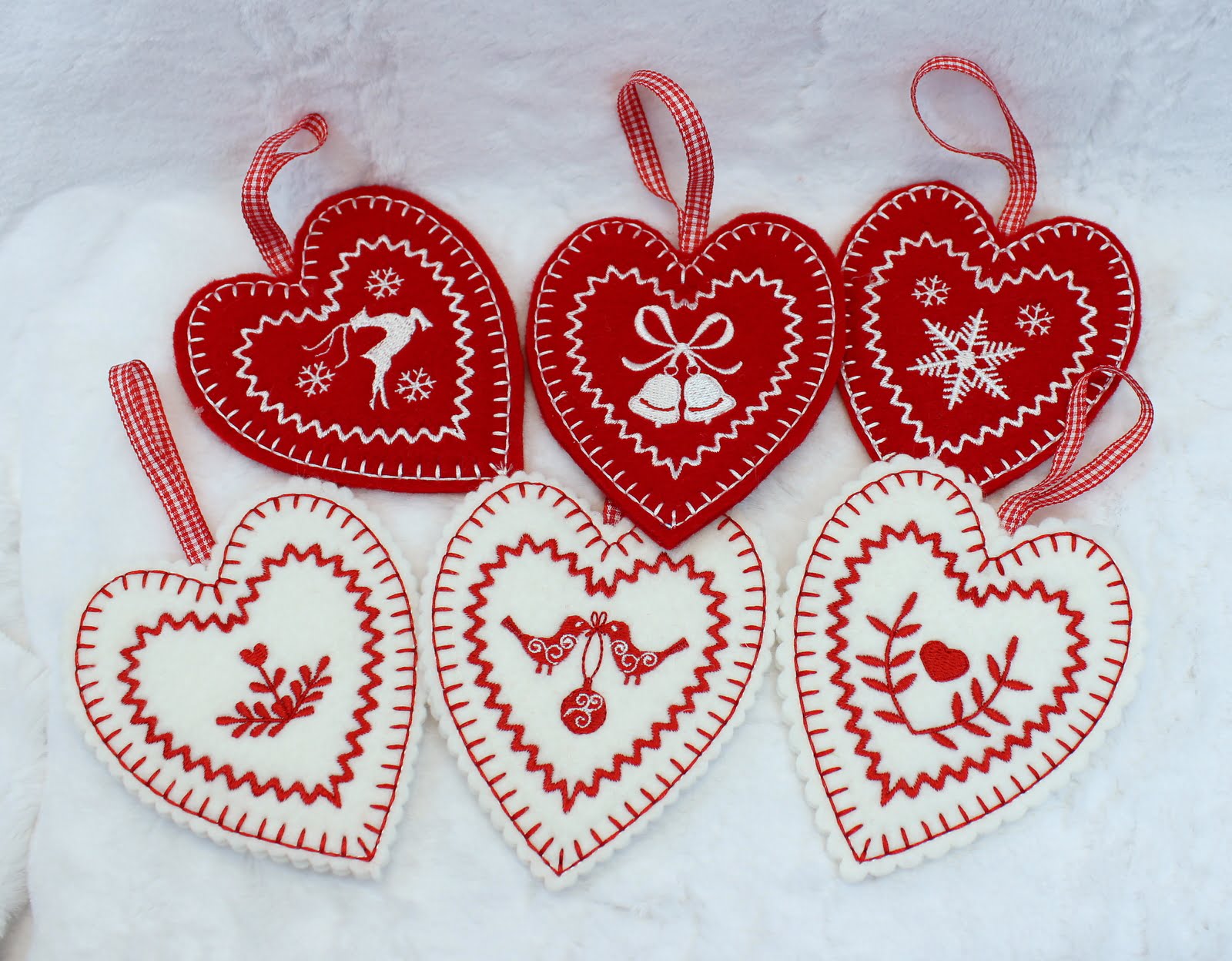 This design set combines our Hearts Christmas Ornaments 4×4 and Christmas Puffed Hearts 5×7.
This set of 6 folkloric heart ornaments are made of quality felt and stitch up quickly. Add them to Christmas packages, hang them from a Christmas tree, or include them with your Christmas cards. There are a total of 6 ornaments in this set. This smaller sized set coordinates with our larger sized puffed heart ornaments. No machine or handsewing required.
Design Dimensions & Stitch Counts
Heart 1 3.23×3.89″ 4,874
Heart 2 3.23×3.89″ 5,657
Heart 3 3.23×3.89″ 5,292
Heart 4 3.23×3.89″ 4,039
Heart 5 3.23×3.89″ 4,475
Heart 6 3.23×3.88″ 5,344
These 6 folkloric style hearts are entirely made in the 5×7 hoop. The edges are stitched by the embroidery machine with a blanket stitch, giving each item a handmade look. These hearts are puffed, not stuffed. Layers of Warm and Natural batting are used to achieve the puffy look.
Fast and easy to stitch. There are a total of 6 hearts in this collection. This is a very versatile set. You can also use the designs on guest towels by skipping the first and last color stitchouts. These are relatively large designs for 5×7″ hoops, intended for display on shelves and large Christmas trees or in bowls.
Design Dimensions & Stitch Counts
Heart 1 4.84X5.85″ 7,319
Heart 2 4.84×5.85″ 12,049
Heart 3 4.84×5.86″ 9,822
Heart 4 4.84×5.85″ 5,483
Heart 5 4.84×5.85″ 7,789
Heart 6 4.84×5.85″ 12,137
Heart Template 4.29×5.22″ 634
Available Formats - All designs come in the following embroidery formats: dst, exp, hus, jef, pes, shv, vip, vp3, xxx.
Designs will be downloaded in one zip file. If for some reason your desired format is not found, please contact us.