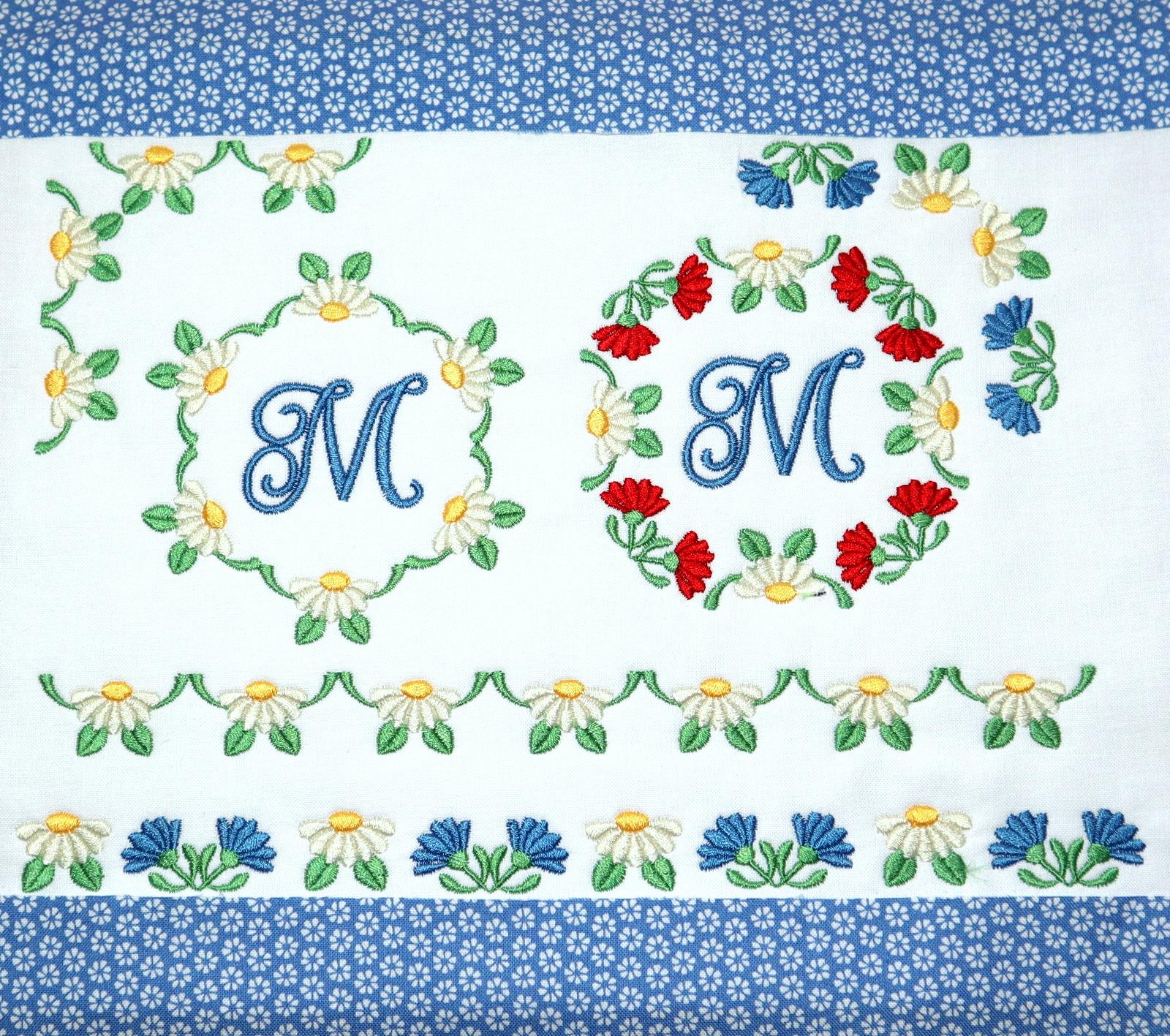 These designs will add a folkloric touch to your projects. Add them to your placemats, kitchen towels, quilts, etc.
There are a total of 6 designs in this set, with the two borders coming in 3 sizes (for 4×4", 5×7", and 6×1" hoops), for a total of 10 stitch files.
Graphic artist : https://www.diddybag.com
Design Dimensions & Stitch Count
Daisy Border Large 9.14" w x 0.72" h 6,455
Daisy Border Medium 6.52" w x 0.72" h 4,610
Daisy Border Small 3.90" w x 0.70" h 2,796
Daisy Corner 2.97" w x 2.96" h 3,652
Daisy Frame 3.37" w x 3.57" h 5,425
Floral Border Large 9.66" w x 0.73" h 8,005
Floral Border Medium 5.71" w x 0.73" h 4,923
Floral Border Small 3.22" w x 0.71" h 2,855
Floral Corner 2.81" w x 2.78" h 3,812
Floral Frame 3.39" w x 3.39" h 9,653
COLOR STITCHOUTS
There is one color stitchout sequence for the daisy designs; another for the floral designs (mix of daisies and another flower).
ALL DAISY DESIGNS
1. Leaves
2. Daisy petals
3. Daisy centers
ALL FLORAL DESIGNS
1. Leaves
2. Daisy petals
3. Daisy centers
4. Second flower petals
Available Formats - All designs come in the following embroidery formats: dst, exp, hus, jef, pes, shv, vip, vp3, xxx.
Designs will be downloaded in one zip file. If for some reason your desired format is not found, please contact us.