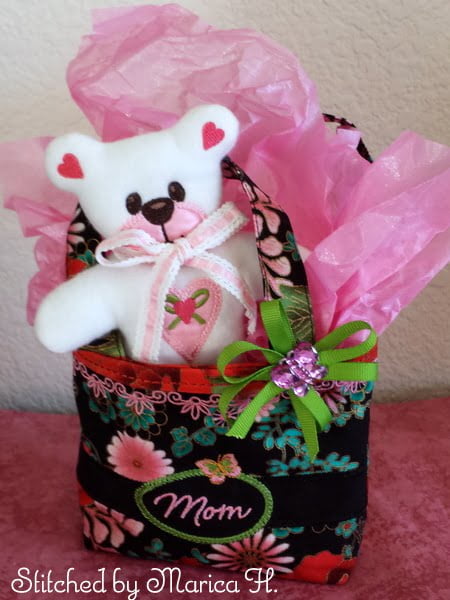 New revised and updated technique (Jan 2015).
This little gift bag is intended for a Mom/Mum, but is easily adapted to more general gift giving, too. Your download includes a bag design with the word "Mom" and "Mum" as well as a bag with a blank label. The front "band" and label are appliqued, all done in the hoop. Most of this bag is stitched as an in the hoop project; only the side seams and the boxing of the bottom need to be sewn on the sewing machine.
The bags are fully lined and seams are hidden. The handles can be made from fabric (instructions included) or use ribbon instead. The bags come in two sizes, for 5×7 and 6×10 hoops.
Gift bags finished sizes:
5×7: 3.75″ w; 3.75″ t; 1.50″ d
6×10: 4.50″ w; 4.50″ t; 2.00″ d
Gift Bag Front (Mom)
5×7: 6.11×5.00″ 11,297
6×10: 7.27×5.91″ 12,033
Gift Bag Front (Mum)
5×7: 6.11×5.00″ 11,218
6×10: 7.27×5.91″ 12,077
Gift Bag Front (no words on label)
5×7: 6.11×5.00″ 10,387
6×10: 7.27×5.91″ 11,123
Gift Bag Back
5×7: 6.11×5.00 6,150
6×10 7.14×5.91″ 6,349
Available Formats - All designs come in the following embroidery formats: dst, exp, hus, jef, pes, shv, vip, vp3, xxx.
Designs will be downloaded in one zip file. If for some reason your desired format is not found, please contact us.