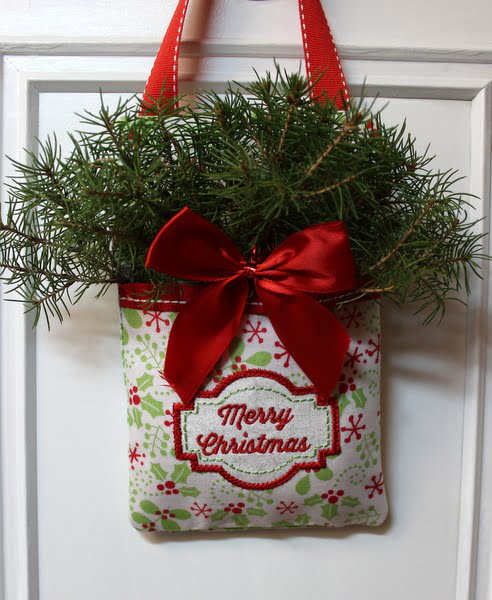 These in the hoop multi-purpose holders are very easy to make, require only a small amount of fabric and are very versatile. Use them to store your reading glasses, sewing utensils, pens, notebook and pencils etc. close by. It can also be used as a charging station for IPods and Smart Phones. Or stitch it up in Christmas colors and give to friends and neighbors, filled with holiday goodies. I am sure you can think of many other purposes for this handy holder. The main part is stipple quilted and the pocket is created in a separate hooping. Sewing machine and/or handstitching are optional. Can be made with one pocket as shown or two pockets — one in the front, one in the back. We'll show you how.
There are 7 versions of the pocket: A "Dad" pocket, a "Mom" as well as a "Mum" version, an applique flower version (with 3 D finge), and two pockets with monogram frames. No monogram or font included. Also included is a pocket with a "Merry Christmas" label. Make it with two pockets, fill it with goodies and put a gift card or Christmas ornament in the back pocket.
Finished holder dimensions (without handle): 4.75×5.75″
Art: www.mygrafico.com
"Dad" and "Mom" labels P-Ink Graphics
Design Dimensions & Stitch Counts
Main holder part 4.99×6.99″ 3,414
Dad pocket 4.99×4.31″ 2,676
Mom pocket 4.99×4.31″ 3,415
Mum pocket 4.99×4.31″ 3,446
Flower pocket 4.99×4.31″ 4,347
Merry Christmas pocket 4.99×4.31″ 5,419
Label 1 pocket 4.99×4.31″ 2.013
Label 2 pocket 4.99×4.31″ 2,530
Available Formats - All designs come in the following embroidery formats: dst, exp, hus, jef, pes, shv, vip, vp3, xxx.
Designs will be downloaded in one zip file. If for some reason your desired format is not found, please contact us.