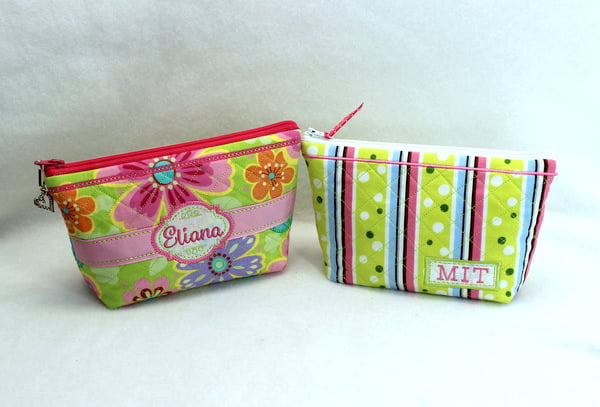 These XL top zippered bags are a partial in the 6×10 hoop project. This set is completed in short THREE hoopings. There are two bags in this set: one with a round label with decorative stitching; another bag with a rectangular label. The bags are geometrically quilted in the front and back and the inside is fully lined; no seams are visible. The grosgrain ribbon is stitched to the bag and then the label is appliqued in place. All done in the hoop. Unlike our other 6×10 version, this bag requires three simple hoopings (not one), resulting in larger bag. The side seams get stitched on the sewing machine, as does the boxed bottom of the bag. If you have stitched one of our updated giftbags, this technique will look very familiar to you!
No font included. A 0.60″ or even 0.75″ font works well for the round label; a ½" font for the rectangular label. (We used our ½" Classic font.)
Bag with round label
Hooping 1 (back) 5.99×9.02″" 8,085
Hooping 2 (front) 5.99×9.03″ 11,372
Hooping 3 (zipper) 1.00×9.03″ 720
Bag with rectangular label
Hooping 1 (back) 5.99×9.02″ 5.703
Hooping 2 (front) 5.99×9.02″ 7,462
Hooping 3 (zipper) 1.00×9.03″ 720
Finished bag size: 4.50″ tall x 6.00″ wide x 2.25″deep
Available Formats - All designs come in the following embroidery formats: dst, exp, hus, jef, pes, shv, vip, vp3, xxx.
Designs will be downloaded in one zip file. If for some reason your desired format is not found, please contact us.