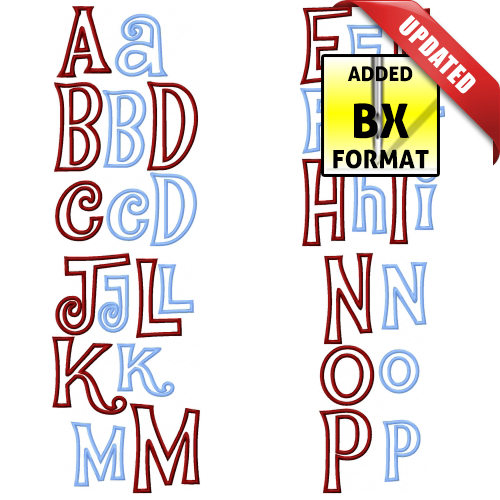 Now with BX!
This applique font is fun and quirky and perfect for those name pillows you have been wanting to
make. But dont stop there. Use the initials to place on journals, bookbags, shirts, totes etc. Part of
the quirkiness of the alphabet is not only the odd shape of the letters but also the different heights of
each letter. In addition, many of the lower case letters are actually smaller sizes of the capital letters.
Comes with upper and lower case letters, as well as numbers. No punctuation marks are included.
It also comes with 10 miniature embellishments (5 for boys; 5 for girls) to scatter among the letters.
The embellishments, too, can be used on other items apart from the name pillows. Great on baby
bibs and onesies, too.
Name pillow instructions are NOT part of your download.
Capital letters vary in height from 2.5″ 4.5″
Lower case letters range from: 2.0-3.75″
Little airplane 2.30×1.87″ 3,640
Peace sign boy 1.10×1.10″ 1,170
Little monster 1.32×1.77″ 2,838
Punky star 1.15×1.26″1,556
Triple star 1.57×1.59 3,081
Flower 1 0.98×0.98″ 738
Flower 2 1.78×1.32″ 2,282
Butterfly open 1.75×1.61″ 3,368
Butterfly Side 1.37×1.26 1,893
Peace sign girl 1.58×1.58″ 1,954
Available Formats - All designs come in the following embroidery formats: dst, exp, hus, jef, pes, shv, vip, vp3, xxx.
Designs will be downloaded in one zip file. If for some reason your desired format is not found, please contact us.