This CD (also available as a digital download) contains a variety of our most popular Christmas designs — all done in the hoop.
There are in the hoop giftbags and Christmas tree ornaments, a set of gift card holders (which can also be used to trim the tree) with traditional themes like a Nativity scene and an old fashioned Santa. A whimsical gingerbread tissue box cover and, of course, a new set of 4 Christmas mug rugs round out this collection. Even candle mats are part of the CD. Stitchable in 5×7″ and 6×10″ hoops.
The following designs sets are included on this CD:
1)3D Gingerbread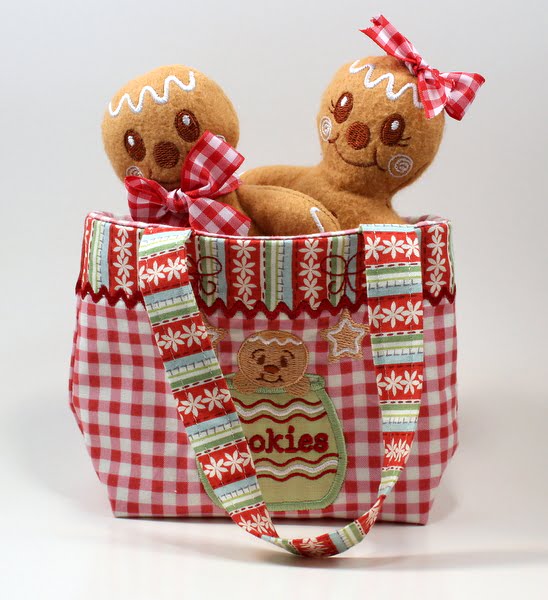 These little gingerbread stitch up quickly and make a fun addition to our gingerbread giftbags. Use them as ornaments on your Christmas tree or attach them to gift packages for that extra little designer touch. A small amount of handsewing is required to close the opening in the back. There are 4 stitch files in your download — a girl and boy gingerbread, one version with embroidered buttons, the other without,allowing you to add 3 D buttons if you prefer.
2)Christmas Gift Card Holder Set
This in-the-hoop set of 5 gift card holders can also be used as Tree ornaments.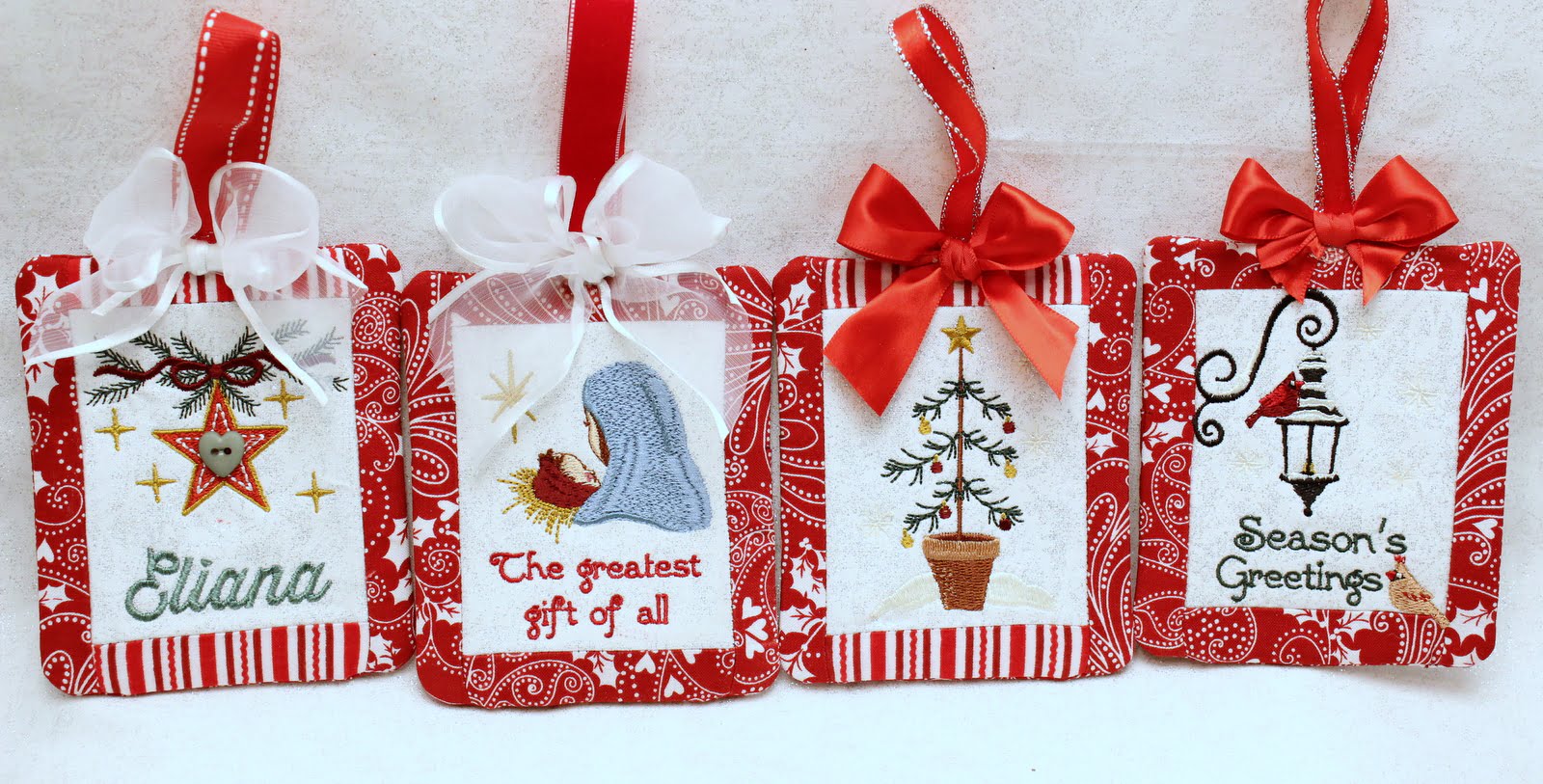 The borders are applied during the embroidery process and a pocket in the back can accommodate a gift card, money, or a small gift. The overall construction of each card holder is identical; the design on each holder varies and covers traditional Christmas themes. Tie the gift card holders to a Christmas tree, a gift bag, or use them as place settings. One of the card holders has a space to allow for insertion of a name.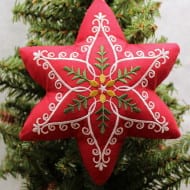 3)Folkloric Christmas Star Set
This folkloric star set comes in three sizes to fit in 4×4, 5×7, and 6×10 hoops. This star is truly beautiful and can be stitched as a 3 D ornament, as an applique, or as a simple embroidery design. An in the hoop project, it stitches up quickly. There are a total of 9 stitch files included in this set. Thorough instructions show you how to make this very attractive 3 D ornament. Hang it from a tree branch, make several and hang them from a ribbon from your fireplace's mantle or use them as gift package decorations.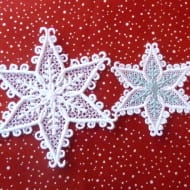 4)Freestanding Lace Snowflakes
There are 10 stitch files in this set of free standing snowflakes (5 different designs in 2 sizes each). Use them as decorations on your trees, wreaths, or Christmas gift packages. You will find that they coordinate with our Folkloric 3 D star set. Also great for inserting into your Christmas cards or use a small clear plastic suction cup and dangle them from your mirror for holiday decorating.

5)Ginger Candle Mat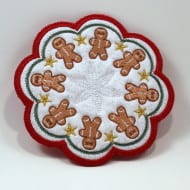 This small Gingerbread themed set consists of a candle mat in 3 sizes (5×5; 6×6; 7×7).
This is an in the hoop project. The center of the mat is quilted with a star design. The 5×5″ candle mat accommodates a 3″ diameter candle; larger candles can be placed on top of the 5×5″ design, but more of the design will be covered by the candle. What a fun gift idea — combine the mats with some of Oma's Place's other gingerbread designs for creative gift giving.
6)Gingerbread Tissue Box Cover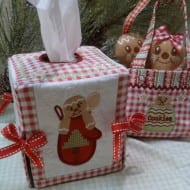 This tissue box cover will add a touch of whimsy to your Christmas decorating. Each side and top is stipple quilted, lined, and pieced together in the hoop. Ribbons tied at the sides further enhance the whimsical feel. There is a small amount of hand sewing required. The tissue box size used for this cover is approximately 4.5″x4.5″x 5″ tall. For 5×7 hoops.
7)Ginger Cookie Bag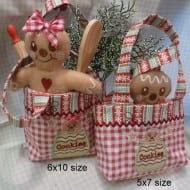 This year, why not give a small bag of cookies and one or two of our gingerbread ornaments tucked inside the bag? They'll love eating the cookies and keep the gingerbread ornament for years to come. The little bags stitch up quickly. Please note that we are using a new technique to make these bags. There are no seams visible on the inside! Use ribbons or fabric made handles (we show you how). The bags come in two sizes — one for 5×7 and the other for 6×10 hoops. The ricrac border is part of your design, as is the cookie jar applique. Mostly an in the hoop project, with a small amount of machine stitching.
8)Season of Wonders Mug Rug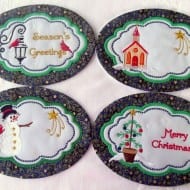 This set of 4 Christmas mug rugs features themes traditionally associated with Christmas: A church and the star of Bethlehem, a snowman, a Christmas tree and a wintery lamp post with cardinals. The center of the mug rug is reverse appliqued. It is very easy to do. We will show you how with detailed instructions and photos. Comes with a printable tag (in pdf format) that explains what a mug rug is and how to care for it. Great used as Christmas greeting cards. The mug rugs fit into a standard A7 (5.25×7.25″) envelope. All mug rugs fit the 5×7 hoops and larger.
9)Thirsty Font
This highly legible script font stitches out very clearly. It comes with numbers 0-9 and commonly used
punctuations. Capital letters stand about ¾" tall. Perfect for blanket labels and our gift card holders. BX FORMAT INCLUDED!