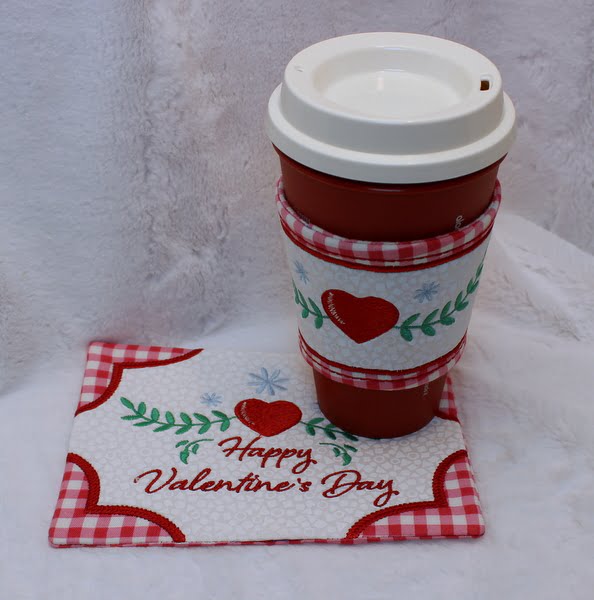 This is a combination of our Folkloric Mug Rug and Folkloric Cup Wrap into one money saving combination design set.
Note: Folkloric Cup Wrap requires a 6×10 hoop
This folkloric mug rug is fun to make and very versatile. You will receive the mug rug with the motif and wording as well as one without the words so that you can add words of your own choosing (such as Happy Birthday, a name
etc.) In addition, there is a plain mug rug without motif or wording. The corners of the mug rug are appliqued. Our Shelby 0.6″ font was used for this mug rug. No font included with your download. The mug rug also comes with a coordinating printable card that explains what a mug rug is and how to care for it. This project is completely done in the hoop. No hand or machine sewing required.
Graphic artist for folkloric motif: www.mygrafico.com (Olilia)
Design dimensions Stitch Counts
Mug Rug with wording and motif 5.00×7.00″ 13,759
Mug Rug with motif only 5.00×7.00″ 9,612
Mug Rug plain (no words, no motif) 5.00×7.00″ 4,887
This cup wrap coordinates with our Heart Mug Rug and our Carry You Mug Rug (sold separately). The cup wrap was designed to fit around a Starbuck sized coffee cup but will fit other cups as well because of the elastic in the
back that holds the wrap in position. You are receiving a cup wrap with the center motif as well as without the motif so you can add a name or just have the wrap showcase your choice of fabrics.
The center is reverse appliqued (it's easy — I'll show you how). The only handsewing that's required is applying a button in the back. Everything else is completely done in the hoop.
Artist for center motif: http://www.mygrafico.com (Olillia)
Design Dimensions: 4.91×10.00
Design Stitch Count: 11.882
Available Formats - All designs come in the following embroidery formats: dst, exp, hus, jef, pes, shv, vip, vp3, xxx.
Designs will be downloaded in one zip file. If for some reason your desired format is not found, please contact us.