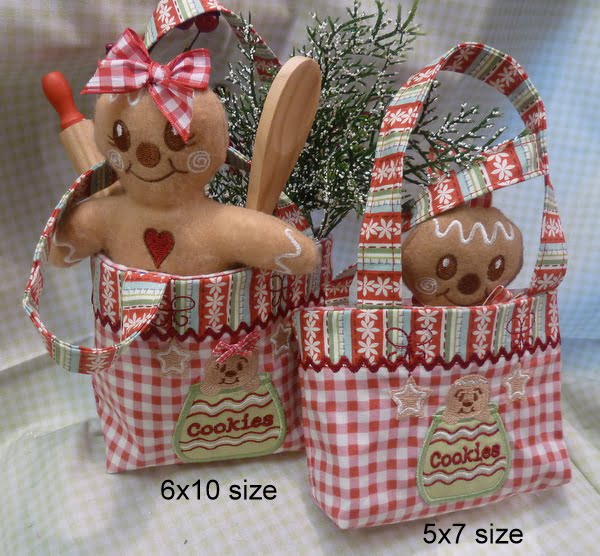 This set combines the 3D Gingerbreads and Gingerbread Cookie Bags.
These little gingerbread stitch up quickly and make a fun addition to our gingerbread giftbags. Use them as ornaments on your Christmas tree or attach them to gift packages for that extra little designer touch. A small amount of handsewing is required to close the opening in the back. There are 4 stitch files in your download a girl and boy gingerbread, one version with embroidered buttons, the other without, allowing you to add 3 D buttons if you prefer. For 5×7 hoops or larger.
Design Dimensions:
Design Dimensions: Stitch Counts:
Gingerbread boy with buttons 5.07×6.12″ 5,266
Without buttons 5.07×6.12″ 4,635
Gingerbread girl with buttons 5.07×6.12″ 5,608
Without buttons 5.08×6.12″ 3,670
3 D Gingerbread finished size: 4.25×5.25″
Exclusive graphics: Sugar Bear Graphics
This year, why not give a small bag of cookies and one or two of our gingerbread ornaments tucked inside the bag? They'll love eating the cookies and keep the gingerbread ornament for years to come. The little bags stitch up quickly. Please note that we are using a new technique to make these bags. There are no seams visible on the inside! Use ribbons or fabric made handles (we show you how). The bags come in two sizes one for 5×7 and the other for 6×10 hoops. The ricrac border is part of your design, as is the cookie jar applique. Mostly an in the hoop project, with a small amount of machine stitching.
Design dimensions & Stitch Counts:
Front 5×7 cookie bag: 6.99×4.99″ 10,501
Back 5×7 cookie bag: 6.99×4.99″ 3,085
Front 6×10 cookie bag: 7.25×5.94″ 11,767
Back 6×10 cookie bag: 7.25×5.94″ 3,286
Finished bag sizes (without handles)
5×7: 3.75″ h x 4.50″ w x 1.75″ d
6×10: 4.75″ h x 4.50″ w x 2.00″ d
Graphic artist for embroidery designs: Sugar Bear Graphics
Available Formats - All designs come in the following embroidery formats: dst, exp, hus, jef, pes, shv, vip, vp3, xxx.
Designs will be downloaded in one zip file. If for some reason your desired format is not found, please contact us.